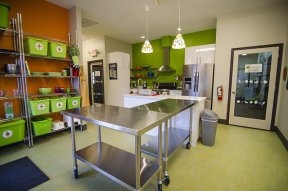 Nutrition Journal reporta que los estadounidenses han cambiado su forma de comer y cocinan menos en casa. Con el ocupado programa de regreso a la escuela, muchos padres encuentran difícil tener tiempo para hacer comidas en casa. Sin embargo, American Journal of Preventive Medicine reporta que la cantidad de tiempo que se gasta en la preparación de la comida y en cocinar puede tener implicaciones para todos en cuanto a la calidad de la dieta y la salud y que un mayor tiempo pasado en la preparación de la comida en casa es asociado con una dieta de mejor calidad. Aunque los beneficios de tomar comidas cocinadas en casa son un hecho, muchos padres aún no están seguros como ajustarlas en su apretado horario. A continuación consejos para el ocupado programa de regreso a la escuela y como tener alimentos saludables en la mesa en un santiamén: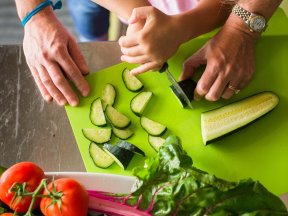 Planée por adelantado. El fin de semana, siéntese y haga una lista de lo que su familia va a comer toda la asemana. Luego vaya a la tienda y compre lo que necesita para esos platillos. Saber que hacer lo hace más fácil, solo puede mirar su lista en el refrigerador y empezar a preparar una comida.
Use lo que tiene a la mano. Las despensas muchas veces tienen mucha comida, sin embargo la gente no sabe que hacer para combinarla y hacer un platillo. Doctor Yum Project ha querido resolver este problema ofreciendo una línea gratuita, el Meal Maker Machine, que ayuda a la gente a crear una receta utilizando los ingredientes que tiene a mano. Simplemente ponga los artículos que tenga a mano y el sistema creará una conveniente receta para usted.
Prepare por adelantado. Cuando tenga tiempo el fin de semana, ocupe media hora para lavar, picar y tener sus vegetales listos para usarlos en recetas de la semana. De esta forma puede buscar en el refrigerador y sacar los artículos que necesita para su receta. Otra opción que puede ayudarle es cocinar el fin de semana y hacer unas cuantas comidas que puede congelar o poner en el refrigerador. Estas comidas puede sacarlas y calentarlas durante la semana, según las necesite.
El Dr. Fernando creó The Doctor Yum Project, una organización con la misión de transformar la vida de familias y comunidades ofreciendo y entendiendo la conexión entre la comida y la salud en general, así como dándoles los intrumentos necesarios para vivir una vida saludable. Para más información, visite www.doctoryum.org.