Eating right may help protect your brain health in old age, a group of new studies show, according to four new studies. In particular, the Mediterranean-DASH Intervention for Neurodegenerative Delay (MIND) diet lowered people's risk of dementia, two studies concluded. The MIND diet is a hybrid of the Mediterranean diet and the DASH (Dietary Approaches to Stop Hypertension) diets, both of which were originally designed to help improve heart health. Seniors who carefully followed the MIND diet had a 35 percent lower risk of declining brain function as they aged. Even people who halfheartedly adhered to a MIND diet reduced their risk of brain decline between 18 to 24 percent.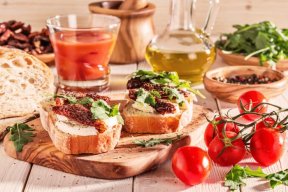 "We've always been saying that a healthy heart is a healthy brain," said Dean Hartley, director of science initiatives for the Alzheimer's Association. "Your brain uses 20 percent of your cardiac output for getting oxygen and glucose. If you don't have a good pump, that saps the brain of a lot of things needed to sustain its normal function," he said. A heart-healthy diet also protects the blood vessels inside the brain, reducing the chances of micro-strokes or other health problems that could affect brain function, said Dr. Marc Gordon, chief of neurology at Zucker Hillside Hospital in Glen Oaks, N.Y. "What's good for the vessels of the heart is good for the vessels of the brain," Gordon said.
The DASH diet is intended to reduce blood pressure by promoting consumption of foods that are low in saturated fat, total fat and cholesterol. People are asked to eat lots of fruits, vegetables, low-fat dairy, whole grains, poultry, fish and nuts, while limiting their intake of red meats, sugar and salt. The Mediterranean diet shares many of the same goals and diet guidelines, with some specific substitutions. For example, people are asked to replace butter with healthy fats like olive oil, and to use herbs rather than salt to flavor foods. The first MIND diet study involved almost 6,000 seniors participating in the Health and Retirement Study, sponsored by the U.S. National Institute on Aging.