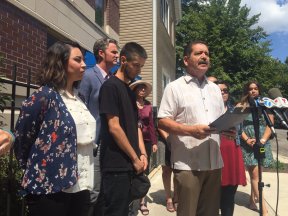 Por: Ashmar Mandou
En el corazón de la comunidad de Back-of-the-Yards hay un programa que hace un profundo impacto en jóvenes en peligro. Durante una conferencia de prensa frente al CentroTepeyac, localizado en el 4538 S. Hermitage, el Comisionado Jesús "Chuy" García, el Concilio de Vecinos de Brighton Park (BPNC) y representantes del Concilio de Asesoría de Justicia/Presidenta de la Junta del Condado de Cook, Toni Prewinkle, elogió a Career Launch Pilot por trabajar con los jóvenes en internados pagados. "Necesitamos crear más inversiones en comunidades como Back-of-the-Yards, dijo el Comisionado García. "La violencia en nuestras comunidades está aumentando junto con el desempleo. Necesitamos crear más oportunidades para los jóvenes. Necesitamos hacer más".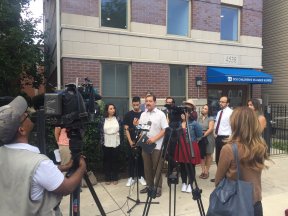 La meta de este tipo de programas es ayudar a reducir la violencia en un ambiente positivo y establecer destrezas de vida. la prevención de la violencia toma varias formas. Puesto qaue la comunidad de Back of the Yards ha experimentado un alza en la violencia en los últimos años, BPNC se asoció con Back of the Yards High School y Casa Tepeyac, para ofreer el Programa Career Launch Pilot. A través de este programa, patrocinado por el Concilio de Asesoría de Justicia del Condado de Cook en la oficina de la Presidente de la Junta del Condado de Cook, Toni Preckwinkle, 35 jóvenes de 16 a 24 años fueron seleccionados para un internado pagado, donde obtienen destrezas de fuerza laboral, destrezas suaves como hacer un resume, destrezas de entrevista, profesionalismo, búsqueda de empleo, reciben administración de casos completos, servicios legales y están conectados a programas de fuerza laboral y firmas de búsqueda de empleo. A través de esto los jóvenes obtienen el apoyo que necesitan para entrar a la fuerza laboral o estar conectados de regreso a una institución educativa. Brighton Park Neighborhood Coundil (BPNC) es una organización comunitaria localizada en el sector Sudoeste de Chicao. Trabajamos para mejorar a nuestra comunidad y establecer su capacidad brindando servicios escolares y comunitarios. BPNC compromete también a líderes en justicia social y la organización de campañas.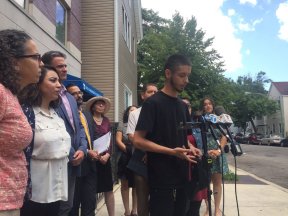 Los participantes del programa Career Launch Pilot compartieron su experienia describiendo el programa como un programa vital que ofrece numerosos beneficios, como confianza durante las entrevistas. "Este programa es sumamente importante para nosotros porque nos da las destrezas necesarias para triunfar en la vida", dijo un participante durante la conferencia de prensa. "Estoy muy agradecida a Career Launch Pilot".
Estamos tratando de adelantarnos al problema consiguiendo estos trabajos para jóvenes. Tenemos 600 solicitudes y esperamos aumentar la participación", dijo un representante de la Junta de la Oficina del Condado de la Oficina de Preckwinkle.