Mayor Rahm Emanuel joined One Summer Chicago youth working at an urban garden job site to congratulate them on completing the 2017 jobs program. For the past seven weeks, 31,000 youth ages 14-24 have been working at similar work sites across the City in opportunities ranging from food service to hospital work to computer programming and more. About 30 youth participated in the Growing Power urban garden program at Roosevelt Square Farm this summer. Managed by After School Matters, the program allowed youth to plant organic vegetables, herbs, and flowers. By participating in all phases of production: watering, weeding, harvesting, pest management, data collection, packaging, and sales; the youth learned the importance of and skills required to create sustainable food systems. They also took part in nutrition, hunger, and food advocacy activities to help cultivate good stewardship of community environments. This season, One Summer Chicago opportunities were offered at nearly 3,000 jobs sites, like Growing Power, with new private sector partnerships including Rush University Medical Center and Potbelly's. Through DFSS, the Department of Streets and Sanitation (DSS), and the Chicago Department of Transportation (CDOT), youth were provided with leadership and other skillsets by involving them in daily work to help beautify Chicago neighborhoods. The team collectively: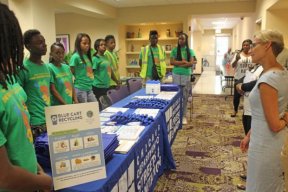 painted over 200 viaducts;
mulched nearly 2500 trees;
used more than 260 Cubic yards of mulch;
collected over 600 bags of debris;
cleaned nearly 225 City blocks, parkways and lots;
assembled and maintained over 615 bikes
created and supported nearly 145 Gardens
For more information on One Summer Chicago visit www.onesummerchicago.org.