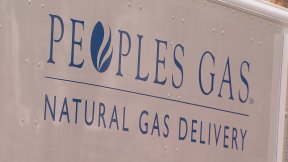 Summer may be nearing its end, but construction work across Chicago is still in season. Peoples Gas urges Chicago Public Schools (CPS) students, as they begin a new school year, to stay safe and play away from construction sites. To help prevent accidents, Chicago residents should be mindful of construction work the Peoples Gas construction workers and crews are doing, including street repaving and large-scale projects. As construction continues into the fall months, Peoples Gas offers the following construction zone safety tips for students to keep in mind when commuting to and from school:
Be alert: Watch where you're going and be aware of construction equipment.
Maintain a safe distance: Stay outside orange safety cones or fences.
Communicate: Tell an adult if kids are playing in or near a construction zone.
Pay attention to signs: Always obey signs posted at construction sites.
Watch your step: Walk on the sidewalk, but stay off closed sidewalks or streets.
"With nearly 400,000 CPS students going back to school, it's important to teach them to always put safety first," said Andy Hesselbach, vice president – construction, Peoples Gas. "Our employees are committed to making our construction zones safe in the neighborhoods where we work."