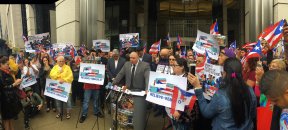 Rally Urges Congress to Pass Relief After Hurricane Maria
By: Ashmar Mandou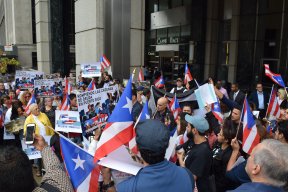 Puerto Rican leaders, community allies and Ald. Roberto Maldonado (26th) rallied Wednesday morning to demand immediate federal aid to relieve and rebuild hurricane-ravaged Puerto Rico, including eliminating the island's $72 billion in public debt, which is currently under review in federal bankruptcy court. At the rally outside Merrill Lynch Wealth Management's offices, members of Vamos4PR—the coalition of community, labor and civil rights organizations fighting for a fair economy for all Puerto Ricans—drew attention to the banks that helped create the Puerto Rican debt crisis and insist on continuing to profit in the wake of Hurricane Maria.
"Instead of thinking about how the island would need resources for the immense rescue, recovery and rebuilding efforts it faces, the banks that have profited from the debt crisis expect to get more," said Janeida Fuentes, the Chicago coordinator of the National Boricua Human Rights Network and a member of The Puerto Rican Agenda. "It's immoral to insist that before Puerto Rican families can rebuild their homes, hospitals, schools and roads, they must first pay back the banks." Merrill Lynch was a leading underwriter for nearly 90 percent of Puerto Rico's borrowings, reaping billions in fees from a distressed economy. On Tuesday, President Trump visited Puerto Rico in what Mayor Carmen Yulin Cruz described the televised meeting with officials as a "PR, 17-minute metting." More than 90 percent of the three and a half million people living on this island remain without power and phone communities.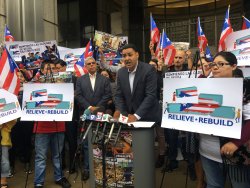 During his televised meeting with emergency responders and officials of Puerto Rico, he went out of his way to praise – and seek compliments for – the federal response. Only seven percent of the island has power and more remote parts of the island – a US territory – have been without food, water and basic medical aid. "Every death is a horror," the president said, "but if you look at a real catastrophe like Katrina, and you look at the tremendous – hundreds and hundreds and hundreds of people that died, and you look at what happened here, with really a storm that was just totally overpowering, nobody's ever seen anything like this." Trump also pointed to the impact of the cost of storm recovery on US domestic spending, which was already facing a budget shortfall of $72bn, telling Puerto Ricans "you've thrown our budget a little out of whack… but that's fine."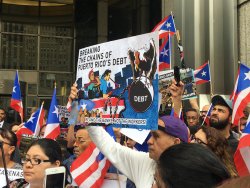 Following the visit, the White House announced it was preparing to send a $29bn disaster aid request to Congress. Of that, $13bn would be for hurricane victims in Puerto Rico, Florida and Texas, while the other $16bn would be for the government-backed flood insurance programme. Today's rally in Chicago was part of a day of action in a dozen U.S. cities to highlight the plight of 3.4 million U.S. citizens in Puerto Rico who have no electricity and drinking water, face shortages in fuel and food and are dealing with severely crippled telecommunications. Vamos4PR members called on the federal government to provide Puerto Rico with all the aid it needs and eliminate the island's public debt.