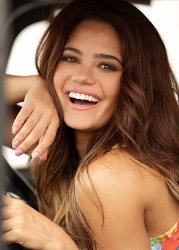 By: Nikoleta Morales
Cuban actress Alina Robert, who captivated the Hispanic market in the US with her beauty and talent in Nuestra Belleza Latina (Univision), as co-host of Sabado Gigante with Don Francisco and most recently with a lead role in the Telemundo series, Mariposa de Barrio, is making her English crossover debut as lead actress in the highly anticipated feature film Make Love Great Again. The film made its world premiere at the 9th Annual Carmel International Film Festival in California on Oct.21st. "It's a fictional love story but it connects to all of us so well. It's amazing how people look for wellness and many other things but not love and this movie shows how love is the balance. When you feel and have love you become a better person," said Alina. Make Love Great Again confronts the severe crisis America is currently facing on a daily basis with immigrant issues. The plot unfolds when 'Chris' (David Haack), an American musician and 'Natalie' (Alina Robert), a Mexican grad student, quickly fall in love and get married after a few months of meeting. Officers at the United States Citizenship and Immigration Services agency are determined to prove that their marriage is a fraud.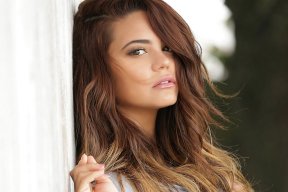 "Natalie is Mexican and she wants to stay in the US because she fell in love. She has to prove that her marriage is real. She is a very sweet, smart, innocent girl" said Alina. "They say if you are playing a character that doesn't change you is not worth it. In my case I loved playing Natalie." The film reconstructs the reality that many immigrants in the U.S. go through and questions if love can really be assessed by a government agency. The film is directed by Mexican filmmaker Aaron Agrasanchez and produced by AAA Film Productions and Movie Mex Productions. The cast includes accomplished American actor Chris Mulkey (Whiplash, Captain Phillips) and Latino actors Jeimy Osorio (Fast Five), Eduardo Yáñez (A Change of Heart) and Jason Canela (Pitch). "Natalie is quiet but there comes a point when she has to break her silence and stand up in front of the immigration officer and prove him he is wrong. Natalie didn't expected to stay in the US. She wanted to go back to Mexico. She decided to stay because she fell in love," said Alina. "Thanks to Natalie's character, I had the chance to visit Mexico during the filming and I fell in love with all of their cities."
Since her start in the entertainment industry as Miss Cuban American 2012, Alina has been involved in several charitable causes in support of both the national and international communities, and is always looking for new causes that she can actively help and support as a humanitarian. She has worked as the spokesperson for Union Positiva in Miami for their campaign for HIV prevention which was launched by the International University of Florida (FIU) with the aim of informing and summoning a massive check to prevent and educate on the virus. This year she was in the community La Vega in the Dominican Republic as a volunteer for the organization TECHOS, raising rural settlements to overcome the poverty of its inhabitants. "Be happy. Being happy for me is the most important thing. I spend time with my family, achieve my goals and fight for what I love. I dream big. Believe in your dreams and go for it. Believe in yourself and fight for what you believe in. That's who I am," said Alina.