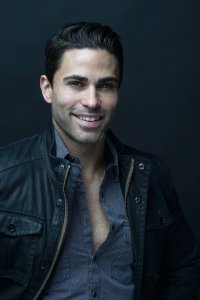 By: Nikoleta Morales
Cuban-American actor Carlo Mendez (actress Eva Mendez's brother) is making his breakthrough as a comedic leading man in a guest starring role opposite Rob Schneider in Season 2 of the Netflix Original Series Real Rob. The series is a scripted comedy based on Schneider's personal and professional life and stars his real-life wife Patricia Maya and daughter Miranda Schneider. Carlos has the role of a Mexican soap opera hunk 'Rico' and Schneider's rival as he plays the part of his wife's co-star in a Mexican 'telenovela.'
"It was so much fun. I tried to play my character very innocent though he is hitting on every woman," laughs Carlo. "The way Rob directed me, the way he pushed me, he made me feel good, comfortable, and he let me be free. They offered me the job at the audition, right on the spot. Hopefully, I will be back for Season 3."
Thanks to his performance at Real Rob, Carlo was able to secure a spot at the CBS sitcom Superior Donuts. "They saw the footage I did with Real Rob and this is what made a difference in getting the part," said Carlos. "This was the first time I did a live audience multi cam show." Carlo also has a recurring role in the 9-time EMMY Award-winning digital drama series The Bay, available on Amazon Prime. Its third season will premiere this fall and continues the story of affluent, yet dysfunctional Bay City residents, starring Emmy winners Mary Beth Evans (Days Of Our Lives) and Kristos Andrews (This Just In). This will be Carlo's second season playing 'Officer Benjy Ramos', a dedicated police officer that keeps his own mysterious secrets.
"I play a police officer who tries to do the right thing and protects the people of the city. He is always on the right side of the law. Being an actor I play out my fantasies," said Carlos. In 2018 Carlo will be seen in the second season of Daytime Emmy award winning actress Victoria Rowell's The Rich & the Ruthless premiering on the Urban Movie Channel (UMC) at the beginning of the year…The only African American daytime dramedy series in the industry based on the real-life drama that happens behind the scenes amongst cast and crew members of an American soap opera production. Carlo plays 'Javier', one of the dramatic soap stars that was introduced in the first season and continues his storyline in the second installment.
Carlo is also a health and fitness enthusiast, passionate in making a difference and help out in any way possible to raise awareness and funds to help people and doctors for the fight against cancer. Losing his older in 2016 to this horrible disease has made Carlo a dedicated advocate supporting cancer research. "My brother passed away from cancer a year and a half ago. You have to be 110 percent optimistic in your heart, soul and mind to beat the cancer. The second you get defeated you will die. My brother didn't fight, he was defeated. You have to be positive and optimistic and beat the cancer no matter what. That's the only way," said Carlo. "Keep going after your dreams. Don't let anyone bring you down. Anything you put your mind to you can achieve. Work hard, be humble and go after what you want. Only you can make it. Don't blame anyone else but yourself and go forward and move forward and keep pushing hard," he added.