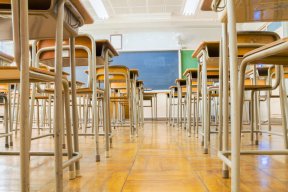 Stanford University professor Sean Reardon, a leading expert on education equality in the United States, presented a new analysis today on Chicago Public Schools that shows Chicago's students learn and grow at a faster rate than 96 percent of school districts in the country – including wealthy districts. Reardon and other education research presented their analysis and data at a forum today hosted by the Joyce and Spencer foundations.
Reardon's key findings include:
Chicago's growth rate is higher than 96 percent of ALL school districts in the United States;
Among the 100 largest school districts in the country, Chicago has the highest growth rate between third and eighth grade; and
The average Chicago student's test scores improved by roughly six grade-level equivalents in five years' time – 20 percent more growth on average.
Each successive CPS class is outperforming the class that came before and improving at a rate far above the national average.