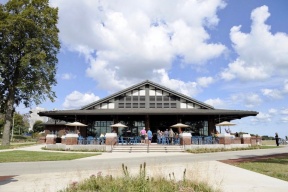 The Chicago Park District announced the first ever series of events and dates for arts and cultural programming in the winter at the newly renovated Theater on the Lake (TOTL) event space, located at 2401 N. Lake Shore Drive. Theater on the Lake will host a variety of events, all part of Mayor Emanuel's Night Out in the Parks series, starting at the end of January and continuing through February. Renovations to the performance space included a new permanent stage with professional lighting and sound systems, an enclosed lobby and box office and dressing rooms. The venue now also includes private event space, a restaurant with a state-of-the-art commercial kitchen and a full bar, outdoor seating and indoor restrooms. Below is a description of a few of the winter programs scheduled to take place at Theater on the Lake:
Mr. and Mrs. Wednesday Night Variety Show
January 24
Currently in a long running residency at Chicago's Hideout, real life couple Lily Emerson (Adventure Sandwich, Opera-matic) and Charlie Malave (Mucca Pazza, Theater Oobleck) are Mr. and Mrs. Wednesday Night, a throw-back to the classic comedy duo in days gone by.  Featuring a live band and an eclectic array of guests from Chicago's theater, comedy, circus and avant-garde performance community, the show is unpredictable, irreverent and funny. Tickets will be available at www.chicagoparkdistrict.com/events/mr-and-mrs-wednesday-night-theater-lake.
Collaboraction's ENCOUNTER
February 3
ENCOUNTER is a mixed medium explorative series exploring racism and racial healing in Chicago. This performance will bring together artists of various mediums and lengths, from around Chicago, to explore the reality of racism in Chicago today and envision racial healing. The Encounter series consists of mixedmedium pieces of 5 – 20 minutes (History, Identity and Resistance), one full length solo show with post show discussions, and racial healing programming focused around one of four themes (Our Chicago, Saints and Sinners, Untitled Asian storytelling, and Day of Forgiveness).
TOTL: In the Works
February 26
TOTL:  In the Works will be the third staged reading in the inaugural Theater on the Lake: In the Works series, highlighting a new play in development by a Chicago playwright. This two year partnership nurtures a work in progress through four staged readings and a developmental production programmed as part of the second season of the partnership.  Our inaugural playwright, Sandra Delgado, will be presenting her play in progress, Felons and Familias. The reading will include a talkback session for community feedback. For more information regarding Night Out in the Parks events or Theater on the Lake, please visit chicagoparkdistrict.com.