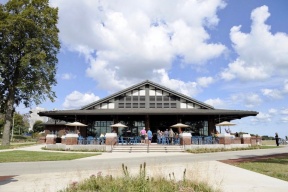 El Distrito de Parques de Chicago anunció la primera serie de eventos y fechas de la programación de arte y cultura de invierno en el recién renovado Teatro en el Lago (TOTL), localizado en el 2401 N. Lake Shore Drive. Theater on the Lake ofrecerá una gran variedad de eventos, todos ellos parte de la serie Noche en los Parques del Alcalde Emanuel, que empiezan a fines de enero y continúan durante febrero. Las renovaciones al espacio de actuación incluyen un escenario nuevo, permanente, con sistemas profesionales de ilumniación y sonido, y un vestíbulo cerrado y taquilla y vestidores. El lugar incluye ahora espacio para eventos privados, un restaurante con moderna cocina comercial y un bar completo, asientos al aire libre y baños interiores. A continuación una descripción de algunos de los programas de invierno programados para efectuarse en el Teatro en el Lago:
Show de Variedad Mr. and Mrs. Wednesday Night
Enero 24
Actualmente residiendo en un Escondite de Chicago, la pareja de la vida real Lily Emerson (Adventure Sandwich, Opera-matic) y Charlie Malave (Mucca Pazza, Theater Oobleck) son Mr. and Mrs. Wednesday Night, comedia clásica de la época pasada. Con una banda en vivo y una gran variedad de invitados del teatro, la comedia, el circo y una comunidad de intérpretes premier de Chicago, el show es impredecible, irreverente y divertido. Boletos disponibles en www.chicagoparkdistrict.com/events/mr-and-mrs-wednesday-night-theater-lake.
ENCOUNTER de Colaboraction
Febrero 3
ENCOUNTER es una serie explorativa mixta que expora el racismo y la sanación racial en Chicago. Esta actuación reunirá a artistas de varios medios de todo Chicago para explorar la realidad del racismo en Chicago hoy en día y tener una visión de sanamiento racial. La serie Encounter consiste en trozos mixtos de 5-20 minutos de (Historia, Identidad y Resistencia), un show de solo completo con debates, programación de sanación racial enfocada en uno de cuatro temas (Nuestro Chicago, Santos y Pecadores, Cuentos de Asia sin Título y Día de Perdón).
TOTL: In the Works
Febrero 26
TOTL: In the Works será la tercera lectura escenificada en la inauguración del Teatro en el Lago: en la serie In the Works, destacando una nueva obra en desarrollo a cargo de un dramaturgo de Chicago. Esta afiliación de dos años nutre un trabajo en progreso por medio de cuatro lecturas escenificadas y una producción en desarrollo programada como parte de la segunda temporada de la afiliación. Nuestra dramaturga inaugural, Sandra Delgado, presentará su obra en progreso, Felons and Familias. La lectura incluirá una sesión de intercambio para tener la opinión de la comunidad. Para más información sobre los eventos de Noche en los Parques en el Teatro en el Lago, visite chicagoparkdistrict.com.