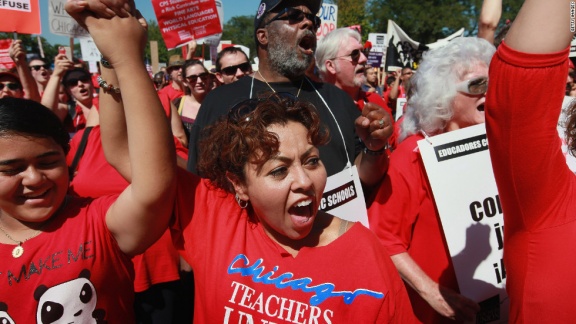 By: Ashmar Mandou
Teachers and allies commenced their new year by holding a press conference outside of Mayor Emanuel's office Monday morning to garner attention over a list of proposals designed to rectify the "flaws" afflicting Chicago public schools primarily located in black and Latino neighborhoods. Several members of the Chicago Teachers Union alongside CTU Vice President Jesse Sharkey; CTU political director Stacey Davis Gates, State Representative Sonja Harper, as well as several allies delivered bullet point list of resolutions to "reset" public policies that have hindered neighborhood schools, students, and their families. The CTU and its allies are demanding that Emanuel embrace the following policies:
The CTU filed a grievance with CPS late Friday afternoon that argues that Emanuel's plans to close all Englewood neighborhood high schools directly violates CPS' contract with the union, specifically the contract's side letter on school closings.
Don't make CPS' CEO justify the unthinkable by closing the last four public high schools in Englewood, a move that will be catastrophic for students and the larger community. Instead, allow CPS' new CEO to invest in schools like Harper and Robeson, so these schools can stabilize, thrive and renew their tradition of providing great educational opportunities for the families whose children rely on good public schools near their homes.
Allow the new CPS CEO to end the attack on veteran educators – particularly veteran Black educators, whose numbers have been slashed in half by CPS' policies of austerity and school privatization – policies that the mayor has actively embraced and encouraged. Instead, end the practice of staffing schools on the cheap through disgraced former CPS CEO Forrest Claypool's aggressive practice of 'student-based budgeting' – a policy used by none of the top-ranking suburban school districts.
Declare public support for an Elected Representative School Board – because no CEO will ever have legitimacy in Chicago when they're making decisions on behalf of the mayor instead of students, families and city residents.
Partner with the CTU to build a Sustainable Community School District and deploy Illinois' new evidence-based funding formula. Emanuel has refused to utilize the state's new funding formula, denying CPS' neediest students in the city's poorest neighborhoods the supports mandated by this law. The CTU and the City agreed in their 2015 contract to pilot the sustainable community schools model in twenty schools, yet today this endeavor remains mired in CPS's bureaucratic red tape.
End CPS' flawed "choice model", which sets up a limited number of well-resourced magnet schools and a large number of charter schools – an approach that has, in combination with student-based budgeting, contributed to the destabilization of Chicago's Black and Latino neighborhoods, driven families from Chicago, and left many neighborhood schools starved of resources and struggling to offer students a quality curriculum.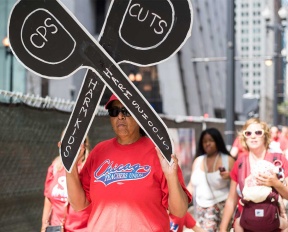 "If CPS and the mayor are truly serious about improving educational outcomes for our students, they must follow the state's new evidence-based funding formula," said Stacy Davis Gates. "It's also essential that they implement the additional reforms we've outlined – including support for sustainable community schools across the school district and complete reform of CPS' special education program, which the previous CEO severely undermined before he was forced to resign." Grassroots groups and public school advocates are also working with the CTU to build attendance at the next Board of Education meeting on January 24th.