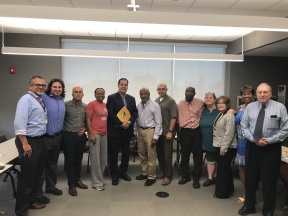 The 2018 Local School Council Elections will take place on Wednesday, April 18, 2018 for elementary schools and Thursday, April 19, 2018 for high schools. Local School Councils play a vital role in every school community. Their decisions can change a classroom, and the lives of our students.
What is a Local School Council?
LSCs include parents, teachers, and community members. Depending on your connections to the school you can run as either a parent or community representative. The LSC's primary responsibilities are to select their school's principal, approve their school's annual budget, and their school's plan to improve academic progress.
How Can I Run for the LSC?
Complete the LSC Candidate Forms, which can be picked up at your school or at cps.edu/lscelections. The term is for two years starting on July 1, 2018. High School Student Representatives serve one-year terms. Return the forms: in person to the Office of Local School Council Relations (Garfield Park Office, 2651 W. Washington Blvd, 3rd Floor) by Feb 20, 2018 or to your school by March 2, 2018.
Parent Candidates Must:
· Be a parent or legal guardian of a child enrolled in the school
· NOT be employed by Chicago Public Schools
Note: When forms are dropped off Parent candidates should bring 2 forms of ID, one of which proves that you are the parent of a child in the school (student's report card, child's birth certificate, etc.).
Community Candidates Must:
· Be at least 18 years old
· NOT be employed by Chicago Public Schools
· Live in the attendance area or voting district of the school
Note: When forms are dropped off Community Candidates should bring two forms of ID, one of which includes their current address (driver's license, utility bill, etc.). Thank you in advance for your interest in serving the children of the Chicago Public Schools through your Local School Council. For more information and to review complete election details, visit cps.edu/lscelections or call (773) 553-1400.