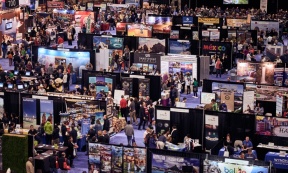 By: Ashmar Mandou
Are you looking for adventure? Do you need help planning your next vacation? Are you in need of inspiration? The Chicago Travel and Adventure Show has you covered. This Saturday, Feb. 10th and Sunday, Feb. 11th, at the Donald E. Stephens Convention Center, 5555 N. River Rd., Rosemont, hundreds of exhibitors from across the globe will be on site to offer travel tips and help you obtain your dream vacation. The Chicago Travel and Adventure Show will also include access to dozens of inspirational, educational and culturally focused sessions on five stages located right on the show floor, along with hands-on activities for the whole family.
"For the 14th iteration of the Chicago Travel & Adventure Show, we have worked tirelessly to offer both travel professionals and the public with the best information on current and exciting travel opportunities and trends from around the world," said John Golicz, CEO of the Travel and Adventure Show. "This year's show will be our biggest yet. Our efforts could not be realized without the help of our sponsors: AAA, Oklahoma, 1000TravelTips.com, and Rick Steves' Europe." The new Wellness Travel Experience pavilion will highlight health-focused travel suppliers, products, and services showcasing the latest trends and news in this growing travel segment. Another highlight of the Chicago Travel & Adventure Show is the opportunity to meet and gain inspiration from the world's top travel experts and celebrities as they present seminars and answer questions over the two-day event. Speaking on the Travel Theater are:
PBS' "Places To Love" (and former Travel Channel) Host Samantha Brown
Frommer's Travel Guides' Executive Editor and syndicated radio personality Pauline Frommer
"Rick Steves' Europe" CEO Rick Steves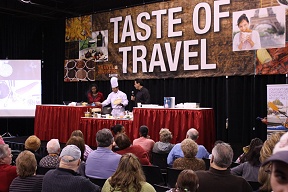 At the Savvy Traveler Theater, visitors will interact with travel experts on subjects ranging from packing and travel technology, to maximizing credit card reward points and travel safety tips and plan in an unpredictable world. At the Destination Theater, travelers will receive destination-specific information from local experts containing information on when to go, how to get there, what to see and local, off-the-beaten-path attractions from destinations such as Australia, Maui and Canada.
The Taste of Travel Theater highlights top chefs who present live cooking demonstrations right on the show floor. Featuring cuisines from around the world, guests will have the opportunity to taste samples and get a full cultural experience in a stadium-seating styled theater. At the Global Beats Stage, attendees can feel the beat and experience the rhythm of cultural dances and musical performances during more than 20 presentations throughout the weekend. If you would like to learn more, visit www.travelshows.com/shows/chicago.