By: Ashmar Mandou
Nearly 1,000 athletes from the U.S. and Canada took part in the one-day first International Special Olympics Summer Games held in July 1968 at Soldier Field. This Friday, the Special Olympics will join the Chicago Park District at a groundbreaking ceremony for the Eternal Flame of Hope, a permanent, 30-foot monument celebrating the 50th Special Olympics. The monument will serve as a symbol of inclusion and will honor the spirit and determination of children and adults with intellectual disabilities. A few athletes from the 1968 Special Olympics Summer Games will be in attendance, including Lawndale resident Amelia Hernandez, 61, who was only 11 years-old when she partook in her first games.
"I don't remember that day, but I love to compete," said Hernandez, who recently earned gold medals in the Special Olympics powerlifting competition at the Quest Multisport facility in East Garfield Park on February 24th where she lifted 30 pounds. "I'm excited to participate. I love sports like heavy lifting and hockey and volleyball. It's a lot of fun."
Amelia's tenacity and vigor for life are truly inspiring to those around her, especially to her mother. "You know back in those days, kids who faced similar circumstances as Amelia were often hidden from the public," said Connie Hernandez, Amelia's mother. "There weren't enough programs for people like Amelia back at that time. I struggled to find things for her to do because from day one she was different. She wanted to do things, she wanted to learn, she wanted to explore." Connie revealed an excruciating moment that occurred in Amelia's life that spurred motivation to seek quality programs for her daughter.
"I'll never forget when we participated in one of the first Mexican Independence Day parades. Amelia and I, as well as her friends, were on a float. We were all happy, ready to cheer when the crowd began to yell out horrible chants, "ahi van los mensos," stated Connie wiping her tears away. "It was painful to hear because I didn't want those chants to stop my daughter from doing what she loved, which was sports. But she kept on. Amelia never stopped. She never allowed people to stop her."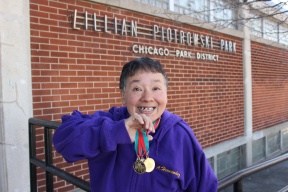 Amelia is an exemplary individual winning over one hundred gold, silver, and bronze medals since her first games in 1968. Each day, Amelia trains at Piotrowski Park in the south Lawndale neighborhood, where she spends her time with Coach David Donohue, park district special recreation coordinator. "Amelia really is an inspiration. There is no limit to what she can do. From the first day I met her, I knew I was witnessing a person with incomparable abilities and someone with a big heart," said Donohue, who has worked with Amelia for 25 years. "I believe in these programs at the Chicago Park District. The Chicago Park District truly transforms the lives of so many people like Amelia."
Connie echoed the same sentiment. "These programs helped Amelia become more independent. The experiences that she has gained over the years has truly changed our lives. It's a lesson for people to know that no matter your age or your circumstance that you are able to accomplish your dreams," said Connie.
The idea for Special Olympics was first suggested by Illinois Supreme Court Justice Anne Burke, who in 1967 was a Chicago Park District instructor working with children with disabilities. She presented the idea to Eunice Kennedy Shriver and City of Chicago Mayor Richard J. Daley. Today, Special Olympics is a global inclusion movement that reaches five million athletes in 172 countries. This summer, July 17-21, Chicago will again host athletes from around the world for a week of 50th anniversary celebrations. Amelia is definitely getting ready to participate in this year's summer games. "Competing makes me happy. I am training every day and ready for the games," said Amelia.