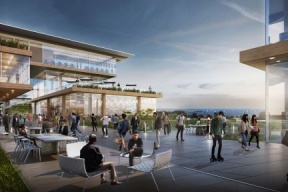 Chicagoans are all in for Amazon and now they have the opportunity to reveal to Amazon what makes Chicago second to none. The People's Pitch "We're All In for Amazon" campaign is calling on Chicagoans to nominate and vote on the city's best attractions and build the Ultimate Amazon Guide to Chicago. In the last week, Amazon has started visiting cities that are in the running to house the company's second headquarters. In a city filled with the best food, museums, parks, theatres and more, there's so much Amazon needs to know when it comes to visit Chicago.  Who better to tell Amazon what makes Chicago the best than Chicagoans? Until midnight Friday, March 16th, Chicagoans are being asked to nominate their favorite attraction in seven categories that reflect the attributes Amazon is looking for in their future home. The categories include:
• Entertainment and Culture
• Restaurants and Bars
• Neighborhood Pride
• Transportation
• Education
• Recreation & Leisure
• Morning Radio or Television
Chicagoans can nominate their favorite hot spots, restaurants, neighborhoods and more by visiting www.chicagoisallin.com/vote ​and on Facebook, Twitter, and Instagram using the hashtag #chicagoisallin. Voting will then take place on the website from March 19-25. Amazon's HQ2 is projected to generate 50,000 direct jobs and 31,000 indirect jobs, along with an annual average impact of close to $20 billion.  The People's Pitch is encouraging Chicagoans to visit www.ChicagoIsAllIn.com and sign up to show their support.