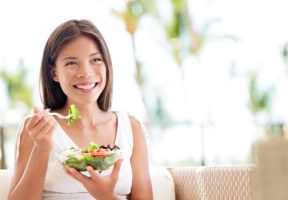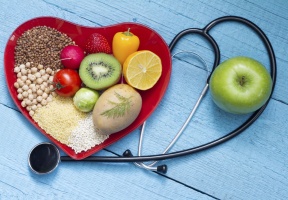 Stressful events—and they don't even have to be big, just the daily hassles of life—cause our cortisol levels to rise. Cortisol causes food cravings, and in women those cravings tend to be strongest for carbs, especially sweet foods, according to researchers at the University of California at San Francisco Medical Center. The more of them we eat, the worse our mood gets. Here are a few foods that you can add to your plate to help combat stress levels.
Asparagus
Asparagus is high in folate, which is essential for keeping your cool. They can be steamed, then added to salads or served up as a side dish. Go ahead and eat as many as you'd like.
Avocados
These creamy fruits stress-proof your body. Rich in glutathione, a substance that specifically blocks intestinal absorption of certain fats that cause oxidative damage, avocados also contain lutein, beta-carotene, vitamin E, and more folate than any other fruit. A single serving (about one-quarter of an avocado) has plenty of B vitamins, too. Remember, this may technically be a fruit, but I count it as a fat, so use portion control. Thin sliced on sandwiches, it adds a whole new layer of flavor.
Berries
Blueberries have some of the highest levels of an antioxidant known as anthocyanin, and they've been linked to all kinds of positive health outcomes, including sharper cognition. But all berries, including strawberries, raspberries, and blackberries, are rich in vitamin C, which has been shown to be helpful in combating stress. German researchers tested this by asking 120 people to give a speech, then do hard math problems. Those who had been given vitamin C had lower blood pressure and lower levels of cortisol after the stressfest.
Cashews
Nuts are great snacks, and because they are crunchy and a little salty, they cure many cravings. For those trying to lose weight, they're such a potently satisfying combo of protein and fat. (You do have to watch portion size though, since they are high in calories.) Cashews are an especially good source of zinc—a 1-ounce serving has 11 percent of your RDA. Low levels of zinc have been linked to both anxiety and depression. Since our bodies have no way of storing zinc, it's important to get some every day. Trade cashews for other nuts on the plan when you're in the mood. Coarsely chop a handful and toss them into a chicken stir-fry
Garlic
Like many plants, garlic is jam-packed with powerful antioxidants. These chemicals neutralize free radicals (particles that damage our cells, cause diseases, and encourage aging) and may reduce or even help prevent some of the damage the free radicals cause over time. Among the compounds in garlic is allicin, which has been linked to fending off heart disease, cancer, and even the common cold.