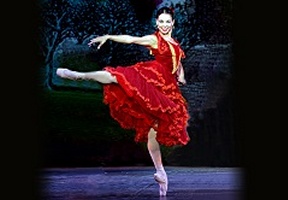 Ballet Nacional de Cuba returns to Chicago for the first time in 15 years May 18-20 with company director Alicia Alonso's acclaimed version of Don Quixote, accompanied by the Chicago Philharmonic. Ballet Nacional de Cuba combines the best of European ballet culture with Cuban customs, honoring romantic and classical traditions. Founded in 1948 by iconic ballerina Alicia Alonso, Ballet Nacional de Cuba has gained international recognition with a wide-ranging repertoire that includes classic ballets such as Diana y Acteon, Giselle, and Esmerelda, as well as newer works by contemporary choreographers Annabelle Lopez Ochoa and Peter Quanz. The company has toured around the world, performing in China, Spain, Holland, and more.
Ballet Nacional de Cuba – Don Quixote
Friday, May 18 | 7:30PM
Saturday, May 19 | 7:30PM
Sunday, May 20 | 3PM
Tickets start at $41 and are available online at AuditoriumTheatre.org, by phone at 312.341.2300, or in person at the Auditorium Theatre Box Office (50 E Congress Pkwy). Discounts available for groups of 10+. The Auditorium Theatre also offers $15 student rush tickets to full-time college students, and $5 tickets to young people ages 13-19 with Urban Gateways' Teen Arts Pass program.