By: Ashmar Mandou
 
The Department of Cultural Affairs and Special Events (DCASE) and Fleet and Facility Management (2FM) officially kicked off the summer season of programming at the Chicago Riverwalk earlier this week. The Riverwalk brings back returning favorites like Chicago's First Lady, Tiny Tapp and Fishing at the Jetty, and introduces new concessionaires including Chicago Brewhouse, The Northman and Frost Gelato. The summer programming preview and kick off will run May18th through May 20th, with a variety of activities including walking tours led by the Chicago Architecture Foundation, Fishing at the Jetty led by the Chicago Park District, and a pyrotechnic display on the LaSalle Street, Clark Street, Dearborn Street and State Street bridges.
"The three-day Chicago Riverwalk celebration will offer an extravaganza of music, art, architecture, fireworks and more," said Mark Kelly, Commissioner of the Department of Cultural Affairs and Special Events. "We invite Chicagoans and visitors to escape the everyday and embrace this magnificent urban space and all it has to offer throughout the year." The award-winning Riverwalk offers a new perspective on Chicago's own unique waterfronts and architecture as the backdrop for summer. "The Chicago Riverwalk has changed the way people interact with the Chicago River and continues to offer new ways for residents and visitors to embrace Chicago's beauty and culture," 2FM Commissioner David Reynolds said. "2FM is proud to maintain the Riverwalk as part of Mayor Emanuel's effort to build on Daniel Burnham's vision for Chicago." The Chicago Riverwalk Summer Kick-Off Celebration is presented by the City of Chicago and produced by DCASE in collaboration with 2FM, Choose Chicago, the Chicago Park District, the vendors and boat tour operators along the Riverwalk.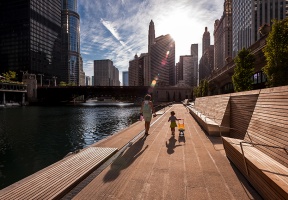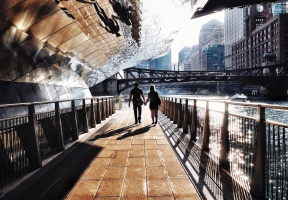 During opening weekend and throughout the summer season, various activities, entertainment and specials will be offered at participating vendor locations and various boat tour operators: Chicago Architecture Foundation, Chicago Brewhouse, Chicago Electric Boat Company, Chicago's First Lady Cruises-Mercury, Chicago's Skyline Cruiseline, Chicago Water Taxi, City Winery, Downtown Docks, Frost Gelato, Island Party Hut and Boat Charters, McCormick, Bridgehouse and Chicago River Museum, The Northman, O'Briens Riverwalk Café, Tiny Tapp and Café, Urban Kayaks and Wendalla Sightseeing. The Riverwalk is open to the public from 6 a.m.–11 p.m. throughout the year. Chicago Riverwalk Summer Kick-Off Celebration activites are free unless otherwise noted. For more information about the Chicago Riverwalk and a complete schedule of events, visit chicagoriverwalk.us—and join the conversation on social media using #ChiRiverwalk.