Recopilado por Ashmar Mandou
El Cuatro de Julio está a la vuelta de la esquina y no hay otra ciudad que celebre tanto como Chicago. Hemos recopilado algunos eventos esta semana que no se puede perder, desde fuegos pirotécnicos a baile al aire libre y deliciosas comidas. ¡Que tenga un maravilloso y seguro Cuatro de Julio!
Fuegos Pirotécnicos en Navy Pier
606 E. Grand Ave.
Disfrute un espectacular show de fuegos pirotécnicos a lo largo del lago. en Navy Pier, comenzando a las 9:30 p.m. el miércoles, 4 de julio, los fuegos iluminarán el firmamento en sintonía con música patriótica. Todo el verano, de hecho, Navy Pier presenta fuegos pirotécnicos gratuitos las tardes de los miércoles y sábados.
Festival de Música en Grant Park: Saludo del Día de la Independencia
201 E. Randolph St.
Un Festival de música tradicional en Grant Park. Traiga a su familia y amigos al frente del lago el miércoles, 4 de julio, de 6:30-8:45 p.m. para una velada de patrióticos favoritos, junto con la Rapsodia en Azul, de Gershwin, presentando a la pianista de 16 años, Emily Bear. Conduce Christopher Bell
Ready, Set…Taste
Grant Park
Disfrute el Taste of Chicago No. 38 con "Ready, Set… Taste" – nuevas ofertas especiales por adelantado al evento principal de este año. Del 1º al 10 de julio, se invita a los amantes de la buena cocina a que vengan y em[iecen a probar cosas del menú del Taste antes de que empiece el festival, visitando uno de los restaurantes participantes y camiones de comida. Mencione "Taste of Chicago" cuando ordene para que reciba un descuento especial o una oferta gratuita. Para una lista de vendedores participantes, visite tasteofchicago.us.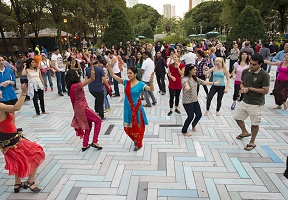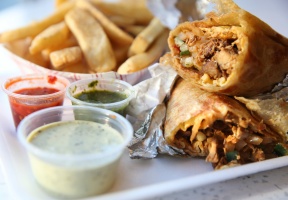 Happy Place
1004 N. Elston Ave.
Abriendo el jueves, 28 de junio y cerrando el lunes, 6 de agosto, HAPPY PLACE dará a los residentes de Chicago y visitantes la oportunidad de encontrar su felicidad en más de una docena de salas de caprichoso diseño llenas de experiencias interactivas y oportunidad de tomar una buena fotografía. Visite HappyPlace.me para más información.
Baile de Verano de Chicago
601 S. Michigan Ave.
Visite el jardín Espíritu de la Música en Grant Park, que brilla como lugar de baile urbano. Baile a los sonidos de 48 diferentes bandas en vivo, DJs y siga los pasos de las lecciones de baile. Deslícese sobre el piso, 100 p or ciento reciclado, de 4,900 pies cuadrados, recientemente restaurado. Esta semana baile con los sonidos de la Samba Brasileña, el Swing y la Salsa.