Por: Ashmar Mandou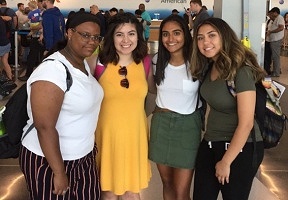 Cada verano, Bank of America presenta su Programa Estudiantes Líderes de Bank of America, programa designado a comprometer a los estudiantes en un internado de ocho semanas, donde desarrollan dotes de liderazgo y visitan Washington, D.C. Este año, la residente de Gage Park y reciente graduada de Eric Solorio Academy High School, Yazmin López, fue escogida para participar. En su carrera de secundaria, López estuvo involucrada en numerosas actividades voluntarias en su comunidad y sirvió como Vicepresidente de la Sociedad Nacional de Honor. En el otoño, López ingresará a la Universidad Northwestern donde buscará un diploma en economía y estadísticas. Como parte del programa de Líderes Estudiantiles de Bank of America, cada estudiante recibe un internado pagado de ocho semanas en una organización no lucrativa local. López está haciendo el internado en los Clubs Boys & Girls de Chicago. Los internados brindan a los estudiantes valiosa experiencia de trabajo mientras apoyan también a las organizaciones no lucrativas con ayuda extra este verano. López compartió su parte en su experienia de internado.
Lawndale Bilingual Newspaper: ¿Cómo supiste del programa de Líderes Estudiantiles de Bank of America?
Yazmin López: Actuamente estoy participando en un programa de preparación para el colegio, de siete años, llamado Chicago Scholars. La organización me envió por e-mail sus 600 seniors scholars actuales con información sobre el programa de Líderes Estudiantiles de Bank of America en el cual encontré la solicitud.
¿Cuáles han sido los mejores momentos durante el programa de ocho semanas en los clubs Boys and Girls?
Regresar con todos los gastos pagados, de la reunión de liderazgo en Washington D.C. que Bank of America y Close-up pagaron y la calurosa bienvenida de 22 jovencitas ha sido el mejor momento. Aunque solo conocí a estas brillantes jovencita por cuatro semanas, su gusto al verme volver me demostró que ya había hecho un impacto en sus jóvenes vidas.
¿En que forma crees tu que un programa como el de Líderes Estudiantiles de Bank of America te ha ayudado con tus destrezas de liderazgo?
Realmente es fácil mantener una mente fija en un contexto tan fundamental en nuestra vida de pre-adulto. Sin embargo, Líderes Estudiantiles de Bank of America ha permitido un estilo de vida dinámico, colocándonos en diferentes organizaciones no lucrativas. Trabajar con niños de muchas etnicidades y religiones me mantiene de pie a través de las diversas interpretaciones del arte, el baile, los libros y los juegos que compartimos.
¿Qué consejo darías a presuntos estudiantes interesados en llenar una solicitud para el programa Líderes Estudiantiles de Bank of America?
Hay muchas actividades extracurriculares en las que los solicitantes pueden participar. Sin embargo, los estudiants que apliquen por el programa Líderes Estudiantiles de Bank of America necesitan asegurarse de que reducen su enfoque a un momento monumental para inculcar al lector que el solicitante tiene un impacto substancial en su servicio.
Pie de Foto: Yazmin López (segunda desde la izquierda) se dirige a Washington, D.C. con los compañeros participantes del programa: