By: Ashmar Mandou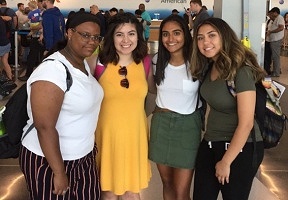 Each summer, Bank of America holds its Bank of America Students Leaders Program, a program designed to engage students in an eight-week internship where they will develop leadership tools and visit Washington, D.C. This year, Gage Park resident and recent graduate of Eric Solorio Academy High School Yazmin Lopez was chosen to participate. Throughout her high school career, Lopez was involved in numerous volunteer activities in her community and served as National Honor Society Vice President. In the fall, Lopez will be heading to Northwestern University to pursue a degree in economics and statistics. As part of the Bank of America Student Leaders program, each student receives a paid eight-week internship at a local non-profit. Lopez is interning at Boys & Girls Clubs of Chicago. The internships provide students with valuable work experience while also supporting the nonprofits with extra help this summer. Lopez shared her take on her internship experience.
Lawndale Bilingual Newspaper: How do you hear about the Bank of America Student Leaders program?
Yazmin Lopez: I am currently participating in a seven year college readiness program called Chicago Scholars. The organization emailed their current 600 seniors scholars with information on the Bank of America Student Leaders program in which I found the application.
What have been the best moments during the eight-week program at the Boys and Girls Clubs?
Returning back from the all-expenses paid, leadership summit in Washington D.C that Bank of America and Close-up paid for to a warm welcome from the 22 girls I mentor has been a paramount moment. Although I have only known these brilliant girls for four weeks, their relief of my return showcased how I had already made an impact on their young life.
How do you think a program like, Bank of America Student Leaders has helped develop your leadership skills?
It's really easy to maintain a fixed mindset at such a pivotal stage in our pre-adult life. Nevertheless, Bank of America Student Leaders has allowed for a dynamic lifestyle by placing us in diverse nonprofits. Working with children from many ethnicities and religion keeps me on my toes through the various interpretations of the art, dances, books, and games we share.
What advice would you give to prospective students interested in applying to the Bank of America Student Leaders program?
There are many amazing extracurricular activities the applicants take part in. However, the students applying to the Bank of America Student Leaders program need to ensure that they narrow their focus to a monumental moment to instill on the reader that the applicant carries a substantial impact from their service.
Photo Caption: Yazmin Lopez (second from the left) heads to Washington, D.C., with fellow program participates.