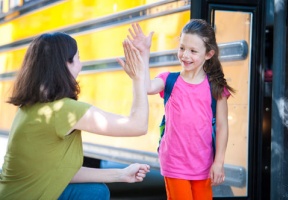 After a long summer break, it's time for the kids to head back to school and focus on classes, sports and other after-school activities. But as you get adjusted to the first month of school, it's a good idea to take a couple of precautionary measures to set them up for a safe, healthy year. Here are back-to-school health tips to consider.
Set bedtimes
It's essential for kids (and adults!) to get a healthy amount of sleep each night to stay focused throughout the day. Although sleep requirements vary somewhat among individuals, most adults need about eight hours of sleep each night, and children and adolescents typically need more than eight hours. To get your kids ready to wake up earlier for school, consider making their bedtimes a little earlier each night for a week or two before school starts. Sticking to a routine is important too, so don't let weekends become late-night free-for-alls.
Teach good hygiene habits
With so many people around, germs are bound to be lurking in classrooms. To help your kids avoid getting sick (and prevent them from bringing germs home), it's important to show them how to protect themselves. Teach them to wash their hands after using the restroom and before going to lunch or eating a snack. It may be smart to provide your children with on-the-go hand sanitizer to use when washing their hands isn't convenient. You should also instruct them not to share food or drinks with other kids.
Stock up on healthy foods
It might be easy to pack your kids' lunches with premade snacks, but a healthy diet is of the utmost importance, and junk foods don't fit into the equation. Make it easier for yourself by stocking up on healthy foods like fruits, vegetables, whole-grain bread and lean protein like turkey. Take a few minutes during the weekend to cut up fruits and vegetables and prepare things like tuna salad or hard-boiled eggs for convenience in the mornings, and buy plenty of containers for nutritious dinner leftovers. Consider getting a small ice pack and an insulated lunch bag to allow more variety.