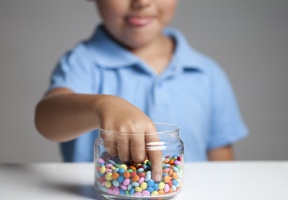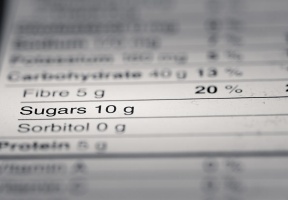 Ask ten parents how much added sugar their child consumes each day and there's a good chance that at least nine of them will have no clue or will underestimate it. In fact, research published in the International Journal of Obesity reported that 92 percent of the parents surveyed in the study underestimated the added sugar content in foods and beverages. The study also showed that kids are more likely to be overweight when their parents are misinformed about sugar in their kids' diet. According to the American Heart Association, children should consume less than 25 grams of added sugar per day, which is equivalent to six teaspoons, and that children under the age of 2 should not have any sugar-added foods or beverages. They report that eating foods high in added sugar throughout childhood is linked to a higher risk of developing such diseases in adulthood as heart disease. Here are a few ways for parents to become savvy about the sneaky ways food companies add sugar to foods:
Confusing food labels. Figuring out how many added teaspoons are in a recipe is not straightforward. First, food labels report sugar in grams. So remember this equation the next time you look at a label: 4 grams of sugar = 1 teaspoon of sugar. To further complicate things, food labels historically did not break down added sugar with naturally occurring sugar. So when we look at a label on a sweetened fruit yogurt, it's often unclear how much of the sugar comes from natural milk sugars and fruit versus how much extra sugar the food company has added. Luckily, by the end of 2018 most food labels will be updated to break down total vs added sugar which will make reading a label more straightforward.
Sweetening with "healthier" sugars. Sweeteners like honey, agave and maple syrup may make a food appear healthier, but that doesn't mean they actually are. While they may be more natural than refined sugar, manufacturers are still adding sugar to a food that may not need extra sweetness. Don't be fooled by healthier sounding added sweetener ingredients.
Know the sneakiest foods. There are some foods that seem to have hidden sugars in them more often than others. Be aware of and read the labels carefully on such foods as granola bars, breakfast cereals, yogurt, fruit snacks, and juice. Juice is trickier because technically the sugar in juice is considered naturally occurring. However, it's more like a processed food. There is nothing natural about a child drinking the equivalent of 5 apples worth of sugar. And when we drink apple juice, there is no fiber to help slow down the absorption the way there is when we eat an apple. Skip the juice and stick with water for hydration and whole fruit for fiber and nutrients instead.
Dr. Fernando, otherwise known as Dr. Yum, is a board-certified pediatrician. She is also the co-author of the book "Raising a Healthy, Happy Eater: A Parent's Handbook" (The Experiment, October 2015). To learn more, visit the site at: www.doctoryum.org.