By: Ashmar Mandou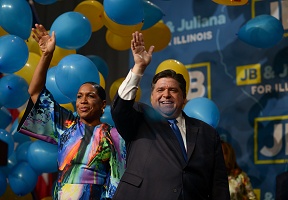 Chicago and Cook County voters weighed in on several ballot questions in addition to voting for governor, Illinois attorney general and other key races in the state making it a blue wave for Illinois. The Chicago Board of Election Commissioners announced an unofficial turnout rate of 55.6 percent as of about 8:30 p.m. Tuesday, the highest midterm turnout in 32 years. In suburban Cook County, officials reported that more than 850,000 voters cast ballots — well above the roughly 696,000 ballots cast in the 2014 gubernatorial election. Below are a few winners from last night's elections.
Governor, Illinois JB Pritzker (Democratic) 61 percent votes
"To the millions of working families that powered our victory today, from the bottom of my heart I thank you for your faith in Juliana and me," said Governor-elect JB Pritzker. "We don't need to be afraid of our history here in Illinois.  Who we are is how we overcome our biggest challenges. We work to mend broken places, we light the journey from hill to hilltop and recognize that there is grace and courage and pride in the struggle to rise. And rise we will. We make no small plans for Illinois. We will strive for the highest graduation rate in the nation. We can become the biggest hub of entrepreneurship between the coasts."
Lieutenant Governor, Illinois Juliana Stratton (Democratic) 61 percent votes  
"I've crisscrossed this state with JB, and our eyes have been opened to the strength and the resiliency of the people who define what it means to be an Illinoisan — and tonight's victory belongs to each of you," said Lieutenant Governor-elect Juliana Stratton. "My heart is with the young people of our state, with the immigrant families, with the worried mothers looking for safe communities, with the silently suffering farmers, and people in communities of color that have been subjected to decades of disinvestment rooted in racism. To all of you who shared your powerful stories throughout this campaign, we not only hear you, we see you."
Attorney General, State of Illinois Kwame Raoul (Democratic) 62 percent votes
Democratic State Senator Kwame Raoul won in the race of Illinois Attorney General Tuesday night. Raoul garnered over 60 percent of the vote. Throughout his campaign trail he focused on defending healthcare, protecting children, and standing up for the Illinoisans' rights and the rule of law. "Ever since my first year of law school, I've dreamed of this job, where I could advocate for so many people whose voices weren't being heard," said Raoul. "I carried that dream through a 25-year legal career, my service in the legislature, and a long campaign. As I traveled the state, it became increasingly clear that there's never been a more exciting or a more important time to take up this office."
U.S. Representative, 4th District Jesus "Chuy" Garcia (Democratic) 76 percent votes
Cook County Commissioner Jesus "Chuy" Garcia has won the race for Illinois' 4th District seat in the House of Representatives. The district stretches from Chicago's Northwest Side into the western suburbs, including portions of Berwyn, Cicero, and Riverside. Garcia replaces Rep. Luis Gutierrez, who has represented Illinois' 4th Congressional District since 1993.
U.S. Representative, 14th District Lauren Underwood (Democratic) 51 percent votes
Democrat Lauren Underwood has defeated four-term Republication Rep. Randy Hultgren, becoming the first minority and first woman to represent a Chicago-area district once held by GOP House Speaker Dennis Hastert. "When Congresswoman Chisholm ran for president in the 1970s, she proclaimed that she was 'unbought and unbossed,' and I've adopted that declaration as my own unofficial model," Underwood said. "I aspire to be a bold representative for this community. Someone who is wholly responsive and accountable to her constituents: unbought and unbossed."
Comptroller, Susana A. Mendoza (Democratic) 68.45 percent votes
Susana A. Mendoza was re-elected as Illinois comptroller against opponent Darlene Senger. Mendoza won a special election for comptroller two years ago and has received praise for cutting costs and adding transparency to the state's bill-paying process. "Thank you. Thank you for re-electing me as your truth-telling fiscal watchdog who's not afraid to stand up to the biggest bully in this state, Bruce Rauner," Mendoza said. "We are looking forward to brighter days here in Illinois. Brighter days."
Photo Caption: Governor-elect and Lieutenant Governor-elect greets the crowd of supporters following a night of victory on Nov. 6th. Photo Credit: Tony Diaz
Photo Caption: U.S. Rep. 4th District-elect Jesus "Chuy" Garcia addresses a crowd at the National Museum of Mexican Art on Election Day. Photo Credit: David Daiz