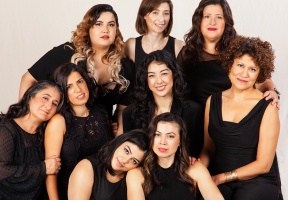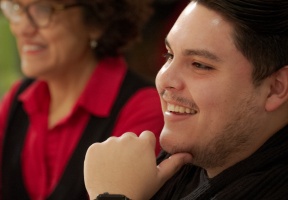 By: Ashmar Mandou
Steppenwolf Theatre Company will soon debut the much anticipated premier of La Ruta by acclaimed Chicago playwright Isaac Gomez, featuring Sandra Marquez and Karen Rodriguez along with an eight-member all female Latinx cast. La Ruta is a bus that carries women to and from work and quickly becomes a space for women to express themselves. Recently, Lawndale Bilingual Newspaper spoke with Gomez about his upcoming play and his admiration for Mexican women.
Lawndale Bilingual Newspaper: We are a few days from the premiere of La Ruta featuring an array of inspiring Latina cast members. What are your sentiments as we near opening night?
Isaac Gomez: I cannot express how deep my gratitude is to have been a part of a process with so many incredibly talented and ferocious artists. There are so few opportunities to be in a room with other Latinx artists in larger institutions, much less a whole cast of them. But every single person involved — from the cast, to design, production, the creative team, the entire staff at Steppenwolf has been working tirelessly to make this as incredible as humanly possible. To know so many people care about this story, about these women, is an incredible feeling.
La Ruta conveys the stories of real women, their struggles, their love, their truthfulness; in a way, this is your love letter to the Mexican woman. How have these women inspired you on a personal level as well as a playwright?
It is almost impossible to separate my identity as a person or playwright from the impact that Mexican women have had on me. As a queer Mexicano from the border, I owe my entire existence to Mexican women. They raised me. They taught me. They loved me. This play is for them. All of my plays are.
La Ruta is literally a bus that transports women to the U.S.-owned factories. However, it becomes a safe haven for women to express themselves. How would you describe La Ruta?
La Ruta extends beyond the bus that transports women from the maquilas to their homes. La Ruta embodies all of the sociopolitical oppressions that allow the murder of femme people, not only in Ciudad Juarez, but all over the world. It's cyclical, it's ongoing, it's repetitive, it's relentless, and it's time to get off.
You have collaborated with eight remarkable women to tell the story. How would you describe the journey with these women to bring La Ruta to life?
Working with these women has been an honor. La Ruta has been a seed in my mind for over seven years, so collaborating with these women to bring this play to life has been more than my border baby heart could have imagined. These are my friends, these are my muses, and these are the women of La Ruta.
What message do you hope resonates with the audience?
Every single woman in this play is based on a real person. And although some names have been changed for their protection, the violence they face and their resilience have not. I made a promise to these women that their stories would be heard by as many people as humanly possible. To know their stories is merely the beginning. The questioning of what to do after, is what comes next.
La Ruta begins previews on December 13th and the production runs through January 27th, 2019 in the Upstairs Theatre, 1650 N. Halsted St. For ticket information, visit www.steppenwolf.org.
Photo Credit: Michele Nolan and Joel Moorman