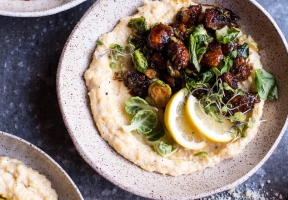 Ingredients
Creamy Goat Cheese Polenta
* 1 1/2 cups milk
* 1 cup dry polenta
* 2 tablespoons butter
* 4 ounces goat cheese
* salt and pepper
Balsamic Chicken
* 1 pound boneless skinless chicken breast or tenderloins, cut into bit size pieces
* 2 tablespoons olive oil
* salt + pepper
* 1/2 cup balsamic vinegar
* 1/4 cup honey
* 1 tablespoon dijon mustard
* 1 teaspoon dried oregano
* 1 teaspoon dried thyme
* pinch of crushed red pepper flakes
* 1 pound shredded brussels sprouts if your brussels are really small you may just halve them
* juice of 1 lemon + fresh lemon wedges for serving
* 1 bunch fresh basil chopped
* goat cheese or parmesan for topping (optional)
Instructions
Creamy Goat Cheese Polenta
1. Bring 1 1/2 cups water and 1 1/2 cups milk to a low boil in a medium size pot. Whisk in the polenta and cook 15-20 minutes until thickened. Stir in the butter and goat cheese, season with salt and pepper.
Balsamic Chicken
1. Heat a large skillet over medium heat. Add a drizzle of olive oil and once hot, add the chicken. Season with salt + pepper. Cook until the chicken is browned all over and cooked through, about 5 minutes. In a small bowl, whisk together the balsamic, honey, dijon, oregano, thyme and crushed red pepper. Slowly pour the balsamic mixture into the skillet with the chicken. Cook until the balsamic thickens and coats the chicken, about 5 minutes. Watch close, you don't want to cook the sauce so much that it ends up sticking to the bottom of your pan. Once the sauce has thickened, reduce the heat and toss in the brussels sprouts. Cook for another 3-5 minutes or until the brussels sprouts have just begun to cook down. Remove from the heat and stir in the basil + lemon juice.
2. To serve, divide the polenta among low pasta bowls or plate. Top with the chicken and brussels sprouts. Garnish with fresh basil + lemon. EAT.