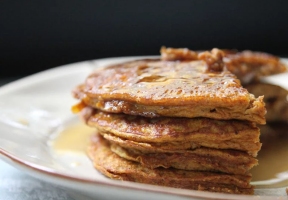 The pumpkin and spices really shines in these Paleo Pumpkin Pancakes, but feel free to use as much or little of the spice mix as you want. The almond butter gives these naturally sweet pancakes a nutty flavor and a punch of protein and healthy fats.
Ingredients
• 1/2 cup pumpkin puree
• 2 large eggs, whisked
• 1 teaspoon vanilla (optional)
• 1 almond butter almond butter
• 1/2 teaspoon baking powder (optional, but really helps fluff them)
• 1/4 teaspoon cinnamon
• 1/4 teaspoon ground ginger
• 1 teaspoon pumpkin pie spice
Directions
Step 1
Combine eggs with pumpkin and vanilla. In a separate bowl add almond butter and spices; stir together. Combine the almond butter mixture slowly into the pumpkin mixture, stirring until smooth.
Step 2
Heat a large nonstick griddle over medium-high heat. Spoon 1/4 cup batter per pancake onto the nonstick griddle. Cook for 3 minutes on each side. Enjoy with honey, maple syrup, or other desired topping.