By: Ashmar Mandou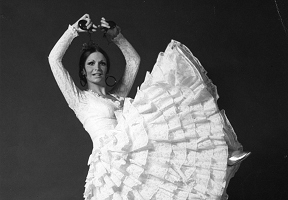 The Chicago dance community mourns the loss of legendary Dame Libby Komaiko, founder of the Ensemble Español Spanish Dance Theater, who died on Saturday, Feb. 2nd at Chicago's Illinois Masonic Hospital from pneumonia, complicated by Lupus and Raynaud's Syndrome. She was 69 years old. For over 50 years, Dame Libby Komaiko's illustrious career embodied art, education, and cultural integrity.
"We were saddened to learn of the passing of Dame Libby Komaiko, founder of the internationally acclaimed Ensemble Español Spanish Dance Theater, located here at Northeastern, and we extend our heartfelt condolences to Ensemble Español and the family, friends and loved ones of Dame Libby. As we mourn her loss, we are also grateful for her dedication and commitment to the University and the arts. She will be dearly missed," said Gloria J. Gibson, President, Northeastern Illinois University.
Born in Chicago June 30, 1949 and raised in Evanston, Ill., Komaiko started her dance training as a young girl, studying with Elisa Stigler at the Chicago Musical College of Roosevelt University. As a teen, she studied and performed jazz, modern and musical theater with the famed Gus Giordano. By age 18, she auditioned for the legendary Jose Greco, and was given the opportunity to train and perform with his world-famous Spanish Dance Company. In 1975, she founded the Ensemble Español —and what began as a company of seven student dancers, is now a full company of 40 dancers, musicians, singers. She choreographed and produced the majority of the company's choreographies, which now number near 135 original works.
 
Komaiko was the recipient of many awards and civic honors, including the coveted Ruth Page Award (2003), the International Latino Cultural Center Lifetime Achievement Award (2004), and most recently, she received the first Legacy Award from Audience Architects for her commitment to the arts community. She was a professor emerita at Northeastern Illinois University, and was given the Distinguished Alumni Award by the school in 2015.
"In 1978, I went to see this performance at NEIU I knew nothing about. It provided me my first glimpse of Dame Libby and Ensemble Español and it was then I knew what I wanted to do. Dame Libby believed in me from the very start and I now serve as Artistic Director all because of her. Her passion for Spanish dance was only exceeded by her passion for excellence, education and community. We dedicate ourselves to those same passions as we carry on her legacy," said Irma Suarez Ruiz, Artistic Director, Ensemble Español Spanish Dance Theater.
 
"Dame Libby's passion for Spanish dance was inspirational to all who met her. It was she who introduced me to Spanish dance more than three decades ago. While her physical presence is gone, her spirit will continue to resonate in the company and everyone… dancers, musicians, choreographers, students, youth and audience members …whose lives she touched. Gracias mi Libby de todo corazón," said Jorge Perez, Executive/Associate Artistic Director, Ensemble Español Spanish Dance Theater.
 
Komaiko is survived by her sister Leah Komaiko, brothers Bill Komaiko and Dan Komaiko, birth daughter Jen Miller and birth granddaughter Amanda Miller. Community memorial services at Northeastern Illinois University will be announced at a later date. In lieu of flowers Dame Libby and the family's wishes are for donations to be made to the Ensemble Español Spanish Dance Theater, ensembleespanol.org/raised-chicago-ready-world/.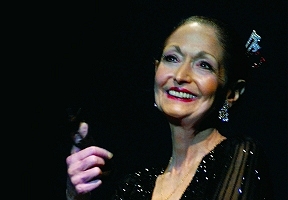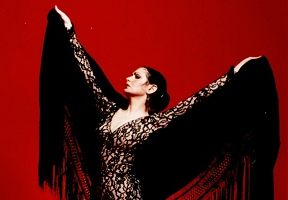 Photo credits of black and white portraits of Libby are: Photo Credit Don Bulucos
Color Photo with red background is by: Photo Credit Jack Mitchell
Color Photo with Libby playing castanets: Photo Credit Dean Paul