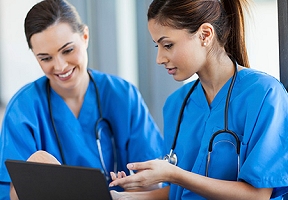 Esperanza Health Centers announced the launch of its Family Nurse Practitioner (FNP) Postgraduate Training Program this September. The program will provide intensive training in both the clinical complexity of family practice in the safety net setting, and training in the Patient Centered Medical Home model for primary care.  Esperanza Health Centers has partnered with the Community Health Center, Inc. of Middletown, CT to develop this program. The Community Health Center, Inc. launched the nation's first formal postgraduate nurse practitioner residency training program in 2007 to support the transition from new NP to primary care provider. The primary goals of this program include:
• Increase access to quality primary care for underserved and special populations,
• Provide new Family Nurse Practitioners with a depth, breadth, volume and intensity of clinical training necessary to serve as primary care providers in the complex setting of the country's Federally Qualified Health Centers
• Improve the skills, confidence, productivity, and job satisfaction of new nurse practitioners, specifically in an urban setting
• Increase the number of Nurse Practitioners ready to serve in leadership roles in community health centers
For more information about the residency program, please contact npresidency@esperanzachicago.org. For more information: https://www.esperanzachicago.org or 773-584-6200.