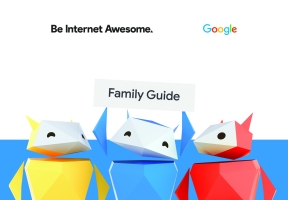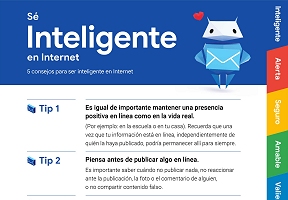 Home will always be the foundation of any child's learning, and healthy online habits are no different. Google's Be Internet Awesome created a bilingual Family Guide and online safety tips in English and Spanish to help families practice good digital habits in their everyday lives. Families will learn to Be Internet Awesome by learning how to share, be alert, be strong, be kind and be brave online. The guide offers tips, conversation starters, vocabulary words, goals and scenarios that will assist in raising strong and smart digital citizens. Here are five tips families can share with their children on how to stay safe and smart online:
Be Internet Smart
Share with Care
What you share online has the potential to be forwarded, copied and found-think before you post.
Be Internet Alert
Don't Fall for Fake
Always think critically before acting online; if something seems too good to be true, it probably is.
Be Internet Strong
Secure Your Secrets
Safeguard your valuable information by building strong passwords to avoid scams, phishing, and damaging devices.
Be Internet Kind
It's Cool to be Kind
Use of the Internet to spread positivity and kindness and block mean-spirited or inappropriate behavior online.
Be Internet Brave
When in Doubt, Talk it Out
Speak to trusted adults about anything suspicious, inappropriate or that makes one feel uncomfortable online.
To download or print new resources and to learn more about Be Internet Awesome, check out g.co/beinternetawesome or in Spanish at g.co/SegenialenInternet