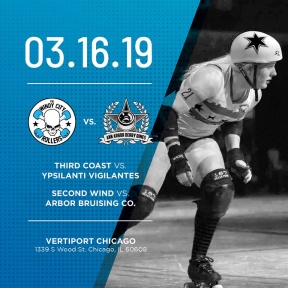 Following their sold-out home team championship, the Windy City Rollers are bringing more thrilling roller derby to Chicago, with fierce rival Midwest teams. Join the Windy City Rollers All-Stars, currently ranked 27th in the world, as we kick off our 2019 season and fight to rise in the global rankings.
Upcoming Schedule:
March 16 | Doubleheader: Windy City Rollers vs. Ann Arbor Roller Derby
April 13 | Doubleheader: Windy City Rollers vs. Arch Rival Roller Derby (St. Louis)
May 18 | Doubleheader: Windy City Rollers vs. Naptown Roller Derby
March's bout will be at Vertiport Chicago (1339 S. Wood St., Chicago, IL 60608), a helicopter landing facility that offers a dramatic backdrop to the action. In addition to hard-hitting derby, guests can enjoy balcony and floor seating, food trucks, beer and other beverages, and more. Tickets start at $18. Advance tickets available at https://wcrmarch16.brownpapertickets.com with a 15 percent discount available for groups of 15 or more when tickets are purchased together.