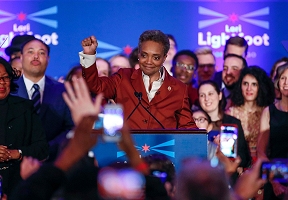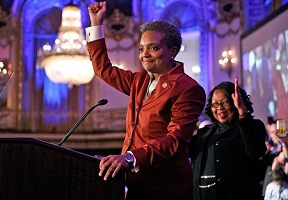 By: Ashmar Mandou
Chicago made history electing former federal prosecutor Lori Lightfoot, defeating Toni Preckwinkle in a runoff for Chicago mayor Tuesday. Lightfoot will be the first openly gay person and first black woman to lead Chicago. Surrounded by a crowd of supporters at the Hilton Chicago Grand Ballroom, Lightfoot cheered and thanked Chicago for their support. According to the Chicago board of elections website, Lightfoot gained 73 percent of the votes compared to Preckwinkle's 26 percent. "In this election Toni and I were competitors, but our differences are nothing compared to what we can achieve together," said Lightfoot. "Now that it's over, I know we will work together for the city that we both love. Today, you did more than make history. You created a movement for change." Lightfoot, 56, who was an assistant U.S. attorney has never held elective office before.
Preckwinkle, 72, who gained the support of several unions, including the Service Employees International Union state council and the Local 700, congratulated Lightfoot over the phone. "This may not be the outcome we wanted, but while I may be disappointed, I'm not disheartened, she said. "For one thing, this is clearly a historic night. Not long ago, two African-American women vying for this position would have been unthinkable." Preckwinkle, a former schoolteacher who served on the Chicago City Council for 19 years will continue her role as Cook County board president. Mayor Rahm Emanuel, who was elected in 2011, released a statement on Mayor-Elect Lightfoot. "Today, we had a positive and productive conversation about the challenges and opportunities facing our city. It is abundantly clear that we both share a deep love for this city and a commitment to work together to move all of its communities forward. We've both made it clear to our teams that they should continue working in collaboration to ensure the smoothest possible transition."
On Wednesday morning, Lightfoot held transition meetings with Mayor Emanuel and Police Superintendent Eddie Johnson. "It was a very cordial and productive conversation. I think, the first of many. And I was very pleased. … You sit down with the existing mayor and his team and they run through issues of mutual concern and importance. … It was very important for me." After leaving City Hall, Lightfoot headed to police headquarters to meet with Police Supt. Eddie Johnson about Johnson's plan to combat the traditional summer surge of violence. Congressman Jesús "Chuy" García, among one of Lightfoot's vocal supporters shared his sentiments. "Congratulations to Mayor-elect Lori Lightfoot on her historic victory as the next Mayor of Chicago. I look forward to working with Mayor-elect Lightfoot on the progressive agenda we share for Chicago, including giving every child from every corner of the city the opportunity to have safe neighborhoods, great schools, affordable health care and job opportunities. In Mayor-elect Lightfoot's victory we hear Chicagoans calling for real reform in our government and politics. Chicagoans want ethics reform, open government, and inclusive politics. They want an end to insider-favors and cronyism. Chicagoans voted to end the days of the City Council rubber stamping the Mayor's agenda."
Photo Caption: Lori Lightfoot makes history in a landslide win becoming Chicago's first African-American woman mayor-elect.