By: Ashmar Mandou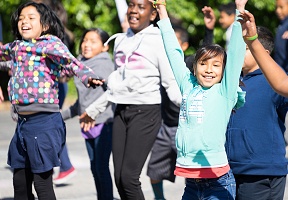 As the old adage goes, breakfast is the most important meal of the day and a power breakfast headed to Laurel Hill Elementary in the Hanover Park neighborhood on Wednesday where kids breakfast liked executives with freshly-squeezed juices and smoothies. Local business owner and "juice-ologist" Greg Hernandez of Dulce Vida Juice Bar was on hand to celebrate the healthy week with smoothies incorporating the healing properties of charcoal, matcha, and turmeric giving students a happy and healthy start to their day.
"We have many customers who start their day in a healthy way with a smoothie or juice drink," reports Hernandez. "We want to bring some of those healthy-eating ideas to children in our community by showing the kids that our drinks are healthy and delicious." According to Hernandez, the goal is to raise awareness about healthy eating habits among families with school children. Hernandez envisions a new generation that can appreciate the freshness of fruits and vegetables in season. "We incorporate seasonal fruits and vegetables to stay on the cusp of the latest nutritional novelties and freshest ingredients," he says. The hope is that these habits will last a lifetime.
"Research has shown that eating breakfast can improve a child's cognitive performance in a classroom, particularly a child's memory and attention span," says Nancy Rodriguez, Certified Food for Life Instructor, Certified Diabetes Nurse Clinician, and Certified Plant-Based Nutrition, eCornell University. "Eating breakfast provides children with the energy to stay alert throughout the day, thereby improving scholastic aptitude."
Every Kid Healthy Week will showcase the work that schools are implementing to improve the health and wellness of their students. The week will be devoted to promoting nutrition, physical activity, and learning, which in turn will help students be more prepared for academic achievement. "Our mission is to empower students to achieve academic success and social independence for lifelong learning," says Maria Lopez, principal of Laurel Hill Elementary. "Promoting healthy eating habits when they are young will contribute to their success later in life."  Every Kid Healthy™ Week is an annual observance created to celebrate school health and wellness achievements and recognized on the calendar of National Health Observances. Observed the last week of April each year, this special week shines a spotlight on the great efforts schools are making to improve the health and wellness of their students and the link between nutrition, physical activity, and learning – because healthy kids are better prepared to learn.
More than 7,000 schools have hosted events since 2013, and more than three million students, staff, family, and community members have participated in tasting new, nutritious foods at taste tests; learning health tips at school health fairs; competing in field days, running in fun runs; and more. For further information about Dulce Vida Juice Bar, visit https://dulcevidajuicebar.com/. For more information on "Every Kid Healthy Week" visit, http://everykidhealthyweek.org/