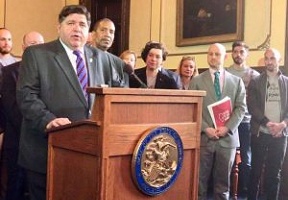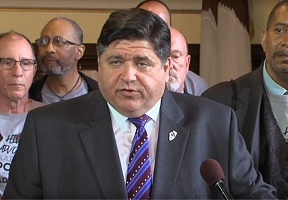 El Gobernador JB Pritzker, el Alcalde Rahm Emanuel, el Departamento de Salud Pública de Illinois (IDPH), el Departamento de Salud Pública de Chicago (CDPH) y la Fundación SIDA de Chicago (AFC) presentaron Getting to Zero Illinois (GTZ-IL) ([Llegando a Cero Illinois] plan completo que detalla acciones para terminar la epidemia de VIH en Illinois para el 2030. Como parte de la colaboración de Getting to Zero Illinois, el plan incluye metas y estrategias que reducirán nuevas transmisiones de VIH, apoyarán la salud de la gente que vive con VIH y SIDA y ayudará a Chicago y a Illinois a llegar a un punto "cero funcional" donde la epidemia de VIH ya no pueda sustentarse a si misma.
El plan está siendo publicado después de dos años de planeación y preparación, después de juntas comunitarias, encuestas, grupos focales, recomendaciones en borrador y opiniones de las comunidades de todo Illinois. El plan está enfocado en importantes cambios en seis áreas, incluyendo: establecer cuidado de salud de VIH y fuerza laboral de salud pública que utiicen nuevos enfoques y adaptaciones a las cambiantes necesidades de la gente que vive y es vunerable al VIH y aumente el acceso a servicios de cuidado de salud que apoyen el uso de PrEP para el tratamiento del VIH; ofrezca servicios y cuidados para condiciones relacionadas y co-ocurriendo, incluyendo tratamiento de salud mental y el uso de substancias, pruebas y tratamiento para infecciones transmitidas sexualmente y vacunas contra enfermedades como la hepatitis viral y la menengitis.
En el 2017, un estimado de 39,842 personas vivían con VIH en Illinois, 23,835 de las cuales vivían en la Ciudad de Chicago. Hubo 1,375 nuevos diagnósticos de VIH en Illinois en el 2017,casi 35 por ciento de disminución del 2006 al 2017. En Chicago, hubo 752 nuevos diagnósticos de VIH en el 2017, los más pocos desde 1990. Usted puede leer el plan en GTZillinois.hiv/plan. Para más información sobre PrEP, llame a la Línea de Chicago PrEP al 872-215-1905 o visite PrEP4Love.com. Para más información sobre las pruebas de VIH, visite www.PrEP4Illinois.com.