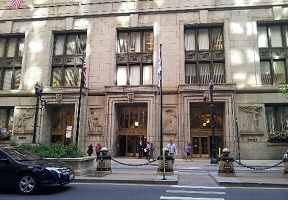 Mayor Lori E. Lightfoot announced several key staff who will serve in leadership positions in her administration. "We are hitting the ground running with a talented team of public servants ready to serve every Chicagoan," said Mayor Lightfoot. "I look forward to working with these experienced professionals to ensure a responsive, transparent government that creates equity, opportunity and growth for every neighborhood in our city." A few of the following appointments were made on Tuesday:
Samir Mayekar, Deputy Mayor for Neighborhood & Economic Development – Samir Mayekar brings the team significant experience from the public, private, and nonprofit sectors. Samir previously served in the Obama administration in the White House and at a federal infrastructure finance agency. As co-founder and CEO of NanoGraf Corporation, Samir built a green energy company that continues to grow in Bronzeville. Fluent in Spanish, Samir has deep neighborhood roots in Chicago, having served as board chair for a community-engaged youth theater in Albany Park and a GRAMMY-winning music ensemble serving the Back of the Yards. He holds a B.A. and M.B.A. from Northwestern University where he serves as a trustee.
Marisa Novara, Commissioner of Housing – Marisa brings 15 plus years of experience leading community-based affordable housing development and spearheading policies to bridge communities, business and academia. While Vice President at the Metropolitan Planning Council (MPC), she advanced the first argument with evidence in the United States of what racial and economic segregation costs a region, and led the subsequent creation of the region's first comprehensive guide to a more racially equitable future.
Manuel Perez, Managing Deputy Director of Legislative Counsel and Governmental Affairs (LCGA) – Manuel (Manny) will lead the day-to-day work of implementing the administration's legislative agenda across all areas, with a particular focus on Springfield as the current session comes to a close. Manny was the campaign manager for the Mayor-elect's runoff election and served as the Intergovernmental Affairs Director for the transition. He has led a variety of campaigns at the local, state, and federal level, including Congressman Jesús "Chuy" García's successful run for Congress in 2018.