By: Princess-India Alexander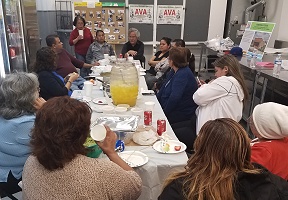 On Tuesday, May 14 The Chicago Community Trust held its On the Table, an annual day where Chicagoans join across the city to have a meal and discuss the issues most important to them and their communities. This year, the Street Vendors Association of Chicago (SVAC) and Chicago Community and Workers' Rights (CCWR) joined for a table in North Lawndale to have a conversation about how Little Village, Pilsen and North Lawndale street vendors can be better supported by the city.
This year's On the Table theme, "Memo to the Mayor," allowed Chicago citizens to create a memo to Mayor Lightfoot and express the change they want to see during her time in office. Rosi Carrasco of CCWR helped organize a table with SVAC to make change for the street vendors that call the West Side home.
"It was about our cooperative coming together to find a way to have better working conditions," said Carrasco. "It's something we [CCWR] care about and that the street vendors care about; so we decided to take this opportunity of having a table. And it was such an opportunity to get to do this memo and talk to Mayor Lightfoot too [through the memo]."
Chicago Community and Workers' Rights is an organization led by workers dedicated to educating and developing resources to create tools for labor rights progress. Thus, their collaboration with the Street Vendors Association of Chicago came naturally.
SVAC is comprised of 60 vendors organized to help eloteros, tamaleros and more operate as successfully and legally as possible. These vendors are part of the West Side's culture, and supporting them is akin to supporting the Little Village, Pilsen and North Lawndale communities. According to the Illinois Policy Institute, around 1,500 food carts operate in Chicago, however it's been increasingly hard for some of these vendors to operate within rigid local policies.
"One of the most important concerns vendors have is that they have been investing money and time throughout the years because they needed a space to cook their food," Carrasco says. "They need two licenses and for the last two years they've had their kitchen, but they're not able to use it because they don't have the licenses they need."
For neighborhood vendors to operate legally, they need a license to use their kitchen and another to sell their food. In the last few years SVAC obtained their kitchen license but face obstacles getting the other license to sell because of a crucial interpretation of Chicago law: warmth.
Warm foods must be sold at a specific temperature to comply with local food laws. Typically, many eloteros and tamaleros make and sell their product within a couple hours, at which time they're technically in compliance. But because they store their goods in ice boxes, they don't meet city regulations. Following their On the Table discussion, SVAC and CCWR wrote their memo to Mayor Lightfoot about how the city can collaborate with vendors to keep these neighborhood mainstays in business legally. "We want them to work with us in finding new ways to fulfill the policy. These group of workers have been able to sustain themselves in spite of the regulations the law has imposed, but they want to work with the city to support the development of these type of businesses," says Carrasco. "This could be a model of something that could work in the neighborhoods of Chicago where there isn't any other work opportunity and disemployment for people of color."
This year marks the sixth year that The Chicago Community Trust organized On the Table. The resulting memos that people created during or after their On the Table discussions will be documented and combined into a single, compilation memo to be delivered by the end of June 21 to Chicago's mayor and other leaders across the region.