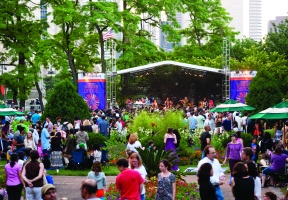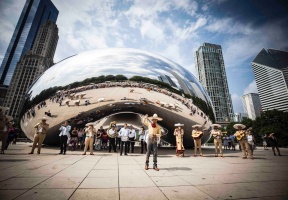 Mayor Lori E. Lightfoot and the Chicago Department of Cultural Affairs and Special Events (DCASE) announced dozens of free cultural events this summer celebrating Chicago's Latino communities, presented by the City of Chicago and its collaborators. Highlights include movies, music, markets, dance, and theatre in the heart of the city and in neighborhoods across Chicago – including, for the first time, ¡Súbelo! (turn it up), a Latino music celebration as part of World Music Festival Chicago. The following event highlights are free and open to the public:
• Millennium Park Theatre Series – featuring Aguijón Theater and eight other local companies, performing July through October as part of the 2019 Year of Chicago Theatre. Details to come. Presented with support from Rick Bayless through Frontera Grill and the Bayless Family Foundation. MillenniumPark.org
• Grant Park Music Festival – presenting Mambo Kings and the Grant Park Orchestra on August 7 at Jay Pritzker Pavilion in Millennium Park as part of its 85th season. Grant Park Music Festival is presented with support from DCASE and the Chicago Park District. GPMF.org
• Maxwell Street Market – offering an eclectic mix of merchandise and some of the best Mexican and Latino street food in Chicago on Sundays, 9am–3pm. Don't miss artmaking with the National Museum of Mexican Art and Yollocalli Arts Reach on June 23 and other select dates through November 3 – and The Big Deal celebration on August 4. MaxwellStreetMarket.us
For the full list of event details, visit chicago.gov/dcase and join the conversation on Facebook at 'Department of Cultural Affairs and Special Events' and follow us on Twitter and Instagram @ChicagoDCASE.