By: Raoul Lowery Contreras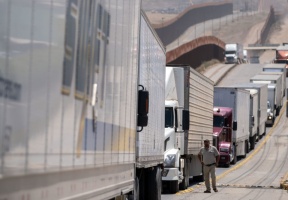 The entire Western business/political world breathed easier when President Trump announced that tariffs would not be imposed on imported Mexican goods. "Free traders" and millions of people who would have been negatively affected by tariffs on imported Mexican products welcomed the news from President Trump. President Trump claimed victory in negotiating a deal that allowed him to announce that Mexico had given in to his tariff threats. Not so.
The President raised eyebrows in announcing that Mexico would deploy 6,000 "National Guardsmen" to its southern border with Guatemala. The problem: there aren't 6,000 Mexican National Guardsmen and there won't be for a long time. It is a new agency founded six months ago by new Mexican President, Andres Manuel Lopez Obrador (AMLO).
It has barely organized a few recruits into a uniformed unit and has no members ready for border deployment. It will take years to recruit, train and deploy armed Guardsmen on the border. Overwhelmed by President Trump's threatened tariffs on Mexican goods was a huge border story: i.e. the election of an American citizen to be governor of the Mexican border state of Baja California.
For the first time in Mexican or American history an American citizen — 68-year-old Jaime (hi-meh) Bonilla was elected governor of a Mexican state, the most important Mexican border state, Baja (bah-haw) California. Over three million people live in Baja California, Southern California's next door neighbor. Among them are 250,000 Americans. Baja workers earn premium Mexican wages and salaries that they spend huge chunks of in California. Every day, more than 50,000 automobiles filled with Mexicans and Americans cross into California from Tijuana through its two border crossings.
The U.S./Mexican border is crossed — every day — by over a million people and $1.63 billion dollars' worth of goods and services. California's number one market is Mexico, it is also Texas' number one market — $100 billion worth. Fifty years ago, tourism and horse/dog racing/gambling were the economic foundation of Baja California. Today it is manufacturing.
Over 60,000 employees — alone –are employed in the production of medical devices ranging from crutches to delicate hi-tech products used in open heart surgery around the world. World famous flat screen manufacturers and mobile phone makers Samsung, Foxconn and L&G collectively employ over 10,000 people in Baja in the manufacture of mobile phones, flat screen televisions and computer monitors.
The Baja median wage (50 percent above and 50 percent below) is higher. Nonetheless, the industrial complex is always looking for workers to fill empty jobs. In November of 2018, when Central American refugees bused into Tijuana, many applied for one-year Mexican humanitarian visas and work permits and were absorbed by Tijuana's worker-starved industry. Bonilla's campaign was aided by the fact that Tijuana has the highest murder rate in Mexico and, perhaps, the world. Illicit drugs, of course, cause the murder rate. Tijuana is home to the infamous border Felix Arrellano drug cartel. Though the cartel has lost its original leaders to American prisons or street assassinations, it still operates as do invading Sinaloa and Juarez drug cartels.
Bodies are found every day. Street-level Mexican drug sellers, not Americans, are bearing the brunt of the pandemic murders. Competition among corrupt police cause many Tijuana deaths. Some years ago a high-noon massive gunfight racked downtown Tijuana between state and federal police; the state officers were guarding a drug loaded SUV, the feds were incensed that the state police were encroaching on their private drug transit protection racket.
Former Republican and American citizen Governor-elect Jaime Bonilla came to the United States 30 years ago. After five years, he applied for and was granted American citizenship. He registered Republican.
He entered American politics by winning a South San Diego County water district board seat. He resigned in 2017 to return to Baja California to run for the Mexican federal Senate as a member of the now President Lopez Obrador's new political party, The National Regeneration Movement.
Governor-elect Bonilla says he will end corruption in Baja California and fight the drug cartels with "hugs, not gunshots," his party's national slogan. Will he succeed? Mexican political mores and history might provide the answer.
The thousands gathered in Downtown Tijuana for a campaign rally roared support for the young congressional candidate as he passionately expounded his platform of bromides — honesty, anti-corruption and helping people. Next came the longtime ruling party political office holder, a veteran of 30 years in various offices and forty years in the "ruling party." He started and finished his brief speech with, "This is a fine young man with a promising future, but for this critical election, who would you rather steal your money, me or someone you don't know?"
Contreras is the author of THE MEXICAN BORDER: IMMIGRATION, WAR AND A TRILLION DOLLARS IN TRADE and WHITE ANGLO-SAXON PROTESTANTS (WASPS) & MEXICO; he formerly wrote for the New American News Service of the New York Times Syndicate.
The opinions of Contreras do not reflect those of Lawndale Bilingual News.