Compiled by Ashmar Mandou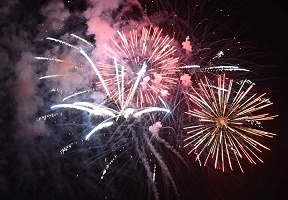 The Fourth of July is finally here and it is time to partake in the many celebrations occurring across the city of Chicago. We gathered up the fireworks shows, parades, and festivals happening in Chicago as well as a few of the suburbs. Have a great celebration!
Fireworks at Navy Pier
When: Thursday, July 4th
Where: Navy Pier, 600 E. Grand Ave.
Time: 9:30p.m.
Cost: Free
Navy Pier, Chicago's favorite Independence Day locale, invites Chicagoans and guests to enjoy a remarkable Fourth of July, complete with live music in the Miller Lite Beer Garden and the Pier's 4th of July Fireworks Presented by Miller Lite on Thursday, July 4. As the city's only lakefront fireworks show, Navy Pier will be at the epicenter of the city's Independence Day festivities, with an extraordinary 15‐minute fireworks display synchronized to patriotic music.
Grant Park Music Festival: Independence Day Salute
When: Thursday, July 4th
Where: Millennium Park, 201 E. Randolph St.
Time: 6:30p.m. to 8:45p.m.
Cost: Free
A Grant Park Music Festival tradition! Bring your family and friends to the lakefront for an evening of patriotic favorites, along with Gershwin's Rhapsody in Blue featuring 16-year-old pianist, Emily Bear. Christopher Bell conducts.
Odyssey Chicago 4th of July Cruises
When: Thursday, July 4th
Where: Boards from Navy Pier and the Riverwalk
Time: Varies
Cost: Varies
Enjoy cocktails, architecture, fireworks, and spectacular city views. What more could you want on the Fourth of July?
Fourth of July 3D Fireworks Extravaganza Cruise on Mercury
When: Thursday, July 4th
Where: Boards from the Chicago Riverwalk
Time: 8p.m. to 10:30p.m.
Cost: Varies
Enjoy Chicago's famous fireworks show — with a twist! Each guest receives complimentary 3D glasses and a delicious treat box to enjoy the fireworks show! Cash bar available onboard. Tickets $64 adults, $49 children, free children under 5-years-old.
Fourth of July in Aurora
When: Thursday, July 4th
Where: RiverEdge Park, 360 N. Broadway Ave. and McCullough Park, 150 W. Illinois Ave.
Time: 9:30p.m.
Cost: Free
RiverEdge Park will feature patriotic music from the American Legion Band, beginning at 5:30 p.m. and Bruce in the USA at 7:10 p.m., on the main stage of the Dunham Pavilion, Aurora's premiere outdoor music venue. The community dance will commence at 9:05 p.m. with the Cha-Cha Slide, Cupid Shuffle, an Old Town Road Sing-a-Long and more.
Fourth of July in Rockford
When: July 4th
Where: Downtown Rockford
Time: 7p.m.
Cost: Free
The 55th annual Rockford 4th of July Parade starts promptly at 7 p.m. from 7th Street and 6th Avenue. The parade proceeds west on State Street, crosses the bridge, and ends at Chestnut and Winnebago Streets. At 9:30pm 5,000 shells from all over the world will be ignited in a 30 minute fireworks show synchronized to music.
Lisle Fourth of July Fireworks
When: July 4th
Where: Lisle Community Park
Time: Noon to 11p.m.
Cost: Varies
Eyes to the Skies Festival will be hosting firework shows every night starting July 4th all the way through July 6th! Bring a blanket, some lawn chairs and some friends to enjoy a beautiful sparkling night for three days straight.