By: Ashmar Mandou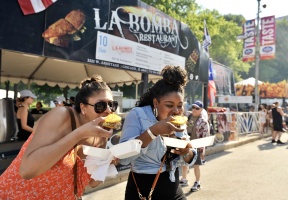 Taste of Chicago returns for the 39th year this weekend through July 14th and we have your roundup of what to expect in food, music, and family-fun activities. Open from 11 a.m. until 9 p.m. on Thursday and Friday, and from 10 a.m. until 9 p.m. on Saturday and Sunday, the 39th Taste will feature new offerings including Camp DoorDash, 36 new eateries, the Taste Oasis concert viewing area, Silent Disco, the Theatre Garden, The Mermaid Diva Show at Buckingham Fountain, the Taste Playground and Ferris Wheel and much more.
Food
Showcasing Chicago's diverse culinary scene, this year's list of 80 eateries include 40 five-day participants, 24 pop-ups and 16 food trucks. Taste-goers will enjoy an endless variety of more than 300 menu items to suit every palate. The food and beverage tickets are $10 for 14, available at on-site or online. The Lifeway Foods Taste Kitchen dishes up a full menu of cooking demonstrations by local and national chefs including Chef Mary Nguyen of Saigon Sisters, Chef Martial Noguier of Bistronomic, Chef Michael Sheerin of Taureaux Tavern and Chef Giancarlo Valera of Tanta Chicago.  
Music
Taste of Chicago presents a diverse mix of chart-topping national and international acts at the Petrillo Music Shell, including Courtney Barnett, Bomba Estéreo, Cultura Profética, De La Soul, The Strumbellas, lovelytheband and India Arie, with opening performances by Sunflower Bean, Taylor Bennett, Joywave, Meshell Ndegeocello and Bilal. For all Petrillo concerts, seating tickets are $25 for general admission and $50 for premium seating.
Arts
As part of the Year of Chicago Theatre, through a generous grant from the Bayless Family Foundation, the Theatre Garden at Taste of Chicago will showcase local theater talent with performances by the world-renowned Second City, Porchlight Music Theatre and other sketch and improv groups. Additionally, Chicago's very own Kit Kat Lounge and Supper Club presents The Mermaid Diva Show on the west side of Buckingham Fountain each day at 3 p.m.
Family Fund
The Taste Playground on the west side of Columbus Drive offers fun for all ages, including the return of the Taste of Chicago Ferris Wheel and an inflatables area for children. Tickets for rides will be available for purchase on site. New this year are a spectacular garden display, a nature play area presented by the Forest Preserve District of Cook County and an exhibit of hydroponic grow towers from Southside Occupational Academy.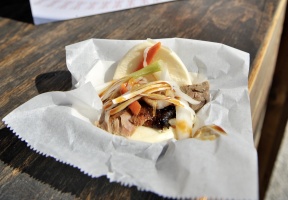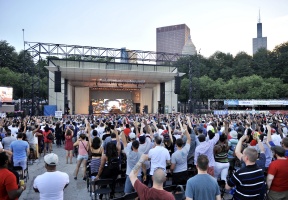 Photo Credit: Chicago Department of Cultural Affairs and Special Events