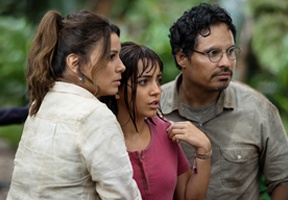 By Nikoleta Morales
If you don't know who Eugenio Derbez is you definitely have to do your diligence and head straight to the movie theater on August 9 to see "Dora and the Lost City of Gold" based on the original film Dora the Explorer. He stars alongside Isabela Moner, Michael Pena, and Eva Longoria joined by the voices of Benicio Del Toro and Danny Trejo. This is a fun film not just for the kids but also for all adults – shot in the Australian jungle it shows the courage of a young teenage girl, Dora, who knows nothing else but to be herself, which makes her a hero at the end. It is an inspirational character and a true hero for any girl, even though Dora happens to be Hispanic. Lawndale News sat down with Eugenio Derbez in person to find out more about his mysterious character in the film, the real scenes shot in the film and the dangers involved (such as deadly snakes, spiders and sinking sands) and his view of "Dora and the Lost City of Gold" as the "Hispanic Black Panther" film.
LN: At the film screening yesterday you said you want "Dora and the Lost City of Gold" to be the "Hispanic Black Panther." Can you tell me more about this message and why you said that?
Eugenio Derbez: I think nowadays we are having a lot of racism in America and every time I see Latinos working so hard in this country I feel that it is not fair. Some run to the US because they feel threatened in their countries or are starving but all of them are here because they want to have a great life. I think the only thing that matters in Hollywood is the money and the box office so if Dora is a huge success, everyone will see that we Latinos are a lot and we do good things because Dora is a good movie and Dora is amazing, and she happens to be a Latina. If you see the movie you will have fun and you will support the box office. Everyone in the US will turn their attention towards Dora and that will be something good for Latinos.
LN: Dora is a very positive image. She is a brave girl and sends a great message for all girls. I myself got inspired watching it. I told my daughter that I want to be like Dora – a very positive hero (haha).
Eugenio Derbez: Her main power is that she is smart and she stays true to herself. Even though everyone was making fun of her she doesn't change just to try to fit in. She stays true to herself and because of that she ends up being a hero and everyone loves her because she is unique – that is also a super power.
LN: At the screening you also said to us "enjoy the movie more than we did filming it" and you said it took place in the Australian jungle with real snakes. Why? What are some fun and scary moments you can share from filming in the jungle? My daughter also wants to know if the quicksand was real?
Eugenio Derbez: It was kind of real. They did this quicksand and a mechanism where the sand was going down slowly and it was a real effect and it was not computer generated. It took us one week to film this scene but it was a lot of fun even though it was scary being surrounded by snakes in the real jungle. We were surrounded by spiders and snakes. The ants were huge and were crawling on me. Honestly we were nervous rehearsing but it was a lot of fun because we were in the real jungle. I was amazed by the trees and nature. Every single thing was so different in Australia. There was one scene where we were running and getting away from the arrows and when we were running one of the girls saw a snake and she started yelling so bad and we thought she was acting but she was yelling for real. Also when I was in the tent I was changing my shirt and one of the wardrobe girls said she had a spider crawling on her neck and I said wait don't move and when she saw the spider it was a deadly spider. It was scary and fun filming at the same time (laughs)
LN: How were you able to hold your breath for so long when you were sinking in the sand and water?
Eugenio Derbez: They trained us for that. When I arrived in Australia they had us train the next day. They said I had to hold my breath for two minutes. The most I could do was 45 seconds. They trained us for a week in a pool to hold our breath for two minutes. I thought I couldn't make it but I finally could. It was really hard. It is more mental than physical. They teach you how to breathe in a different way and they teach you mostly that your body starts to panic but you need to remain calm. You will feel some kicks in your stomach but you have to ignore that because your body is telling you will die but if you remain calm you will overcome that. We did that for the quick sand and for the water scene. Everything was real. What was surprising is that I thought I will be CGI all the time but no they sank the set – it was a 25 million meters' deep tank and there were a lot of divers there in case we had an accident.
LN: What was going through your head in those moments? Did you ever think am I going to die?
Eugenio Derbez: In a few scenes, honestly, I felt that way. When we were in the set sinking we were with clothes and shoes and it was difficult to stay up and every time I was scared that I will not make it. It was intense but good. The acting was real.
LN: Wow! You were going to die for your art! (He laughs) Tell me about your character and also you have some new projects coming up?
Eugenio Derbez: My character's name is Alejandro and I am in charge of guiding Dora through the jungle because I work with her parents so there is not much I can tell you about my character because many things happen that I am not supposed to tell but I am a tour guide in the jungle. I am also working on "Angry Birds 2" and then I am about to start shooting another film in September and two TV series, which are coming out in October and December.
Dora the Explorer hits theaters on August 9th.