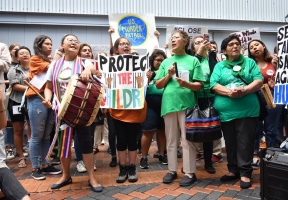 By: Ashmar Mandou
Immigrant rights organizations and protestors with signs reading, "no room for racists," staged a vigil on Tuesday outside of the annual Customs and Border Patrol (CBP) trade symposium held at the Marriott Marquis Chicago hotel. Ahead of the rally, organizers collected over 1,600 signatures in support of the hotel canceling the event. 
"We are here today to let CBP know they are not welcome in Chicago. This agency represents terror for our communities and Marriott Hotel should not host such harmful agency in our city. CBP and its sister agencies tear our families apart and oversee the inhumane treatment of migrants in detention centers across the country," said Anna Rubin, organizer with the Jewish Council for Urban Affairs. 
Community members set up crosses with the names and images of people that have lost their lives in immigration detention centers and chanted "Shame! Shame!" directed to the Marriott Marquis and the U.S. Customs and Border Protection agency. The symbolic installation also included puppets inside cages covered with mylar blankets and a recording of leaked audio of children crying for their parents while in CBP custody. 
"Last week we saw just how dangerous and ruthless this agency can be; holding children hostage to get to their undocumented mother is the type of terror our communities associate with CBP and ICE. We will not remain silent while CBP gets to convene and conspire in hotels like this one," expressed Anna Marin, director of organizing at PASO – West Suburban Action Project. 
On Thursday, July 18, CBP held hostage three US-citizen children at O'Hare Airport and extorted their parents to come to the airport and put themselves at risk of deportation. CBP also violated state law by refusing to honor a notarized letter granting the family's lawyer temporary custody of the children so they could safely and quickly be returned to their parents. During part of the program, organizers also highlighted other stories of Chicago residents that are currently detained at immigration centers awaiting a decision on their case. 
The event was led and organized by groups working with families directly impacted by oppressive immigration policies, including: Asian Americans Advancing Justice – Chicago, Brighton Park Neighborhood Council, Centro de Trabajadores Unidos, HANA Center, Jewish Council on Urban Affairs, Jobs with Justice, National Immigrant Justice Center, Never Again Chicago, Organized Communities Against Deportation, and PASO – West Suburban Action Project.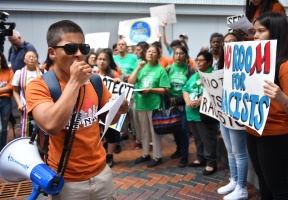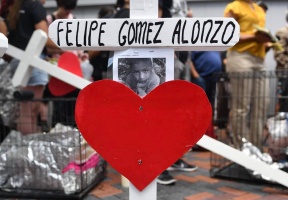 Photo Credit: Paul Goyette