By: Ashmar Mandou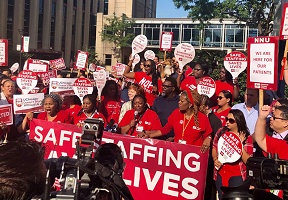 Registered nurses held an information picket and rally on Monday at the University of Chicago Medical Center (UCMC) to inform the public of their apprehensions about patient care at the hospital, announced National Nurses United Organizing Committee/National Nurses United (NNOC/NNU). "We are committed to providing our patients with the very best care possible on all shifts," said Johnny Webb, RN. "But it is simply impossible to provide the care we want to provide, when we are caring for too many sick patients, when we are forced to leave our patients to search for IV pumps and when we are not sure if our patients or our colleagues are at risk of violence." The nurses say chronic short staffing across the hospital, insufficient security protocols, and equipment shortages make it difficult for nurses to provide optimal care to their patients.
Registered nurses say the short-staffing problem at UCMC is so dire that since January of 2017, nurses filled out more than 1,500 reports detailing their concerns about how staffing levels might lead to adverse outcomes for their patients. On these forms, nurses document numerous instances where patient care was compromised by short staffing including delays in chemotherapy administration for cancer patients and an inability to provide adequate monitoring for critical patients in intensive care units. "We have a situation where we have patients and family members who are trying to manage incredible stress, or suffering a mental health crisis, or they simply don't understand why it is taking so long for us to answer the call buttons," said Brigitt Manson-McToy, RN. "All these factors, coupled with short staffing contribute to the potential for violence on the units. RNs bargained new language intended to address these issues in the previous contract, but management has failed to implement the language. Patients need a safe place to heal and nurses deserve a safe place to work."
In June, nurses filed complaints with the Illinois Department of Health charging UCMC failed to provide adequate staffing levels in accordance with state law. The nurses also a filed complaint with the Occupational Safety and Health Administration charging the hospital is failing to keep appropriate records on how injuries in the hospital occur. OSHA and the Illinois Department of Health are investigating. National Nurses Organizing Committee/National Nurses United represents nearly 2,300 nurses at the University of Chicago Medical Center.
National Nurses Organizing Committee is affiliated with National Nurses United, the largest organization of registered nurses in the United States with 150,000 members.