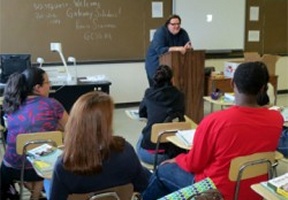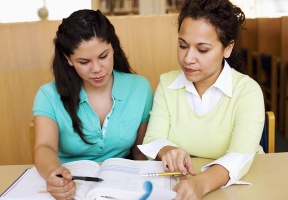 By: Ashmar Mandou
Surmounting disappointment over the changes in the Adult Education Program at Chicago City Colleges (CCC), has caused AFSCME 3506, the union that represents teachers and coordinators at CCC, to organize a news conference announcing the distress the CCC administration is trying to impose.
"After 33 years of service I am appalled to see the day a Latino Chancellor would come and make our program the Walmart Education Model.  After three years of struggling to get a fair contract we have finally reached an understanding," said Sonia Flores, an AFSCME member. "Unfortunately, we have been misled and backstabbed. The teachers and students from The North and South side, in particular in Pilsen, Little Village and the Southwest sides of Chicago are going to be faced with the dilemma of a new schedule that will become a struggle for them, their families and their loved ones." Adult Education is the biggest program in Illinois that provides opportunities to generations of immigrants and working-class Chicagoans across the city with free classes in English as a Second Language and GED high school equivalency. 
According to members of AFSCME 3506 they are concerned about the impact of cutting instructional hours for CCC's most vulnerable students as it may limit student choices and deny educational access for people trying to improve their lives.  AFSCME 3506 has stated that the changes do not meet the standards of sustainable educational practice and CCC wants to see an increase in standardized test scores for the Adult Education Program but the reduction in instructional hours will make this goal more difficult for the students to achieve.  CCC recently bought new textbooks to support the new Adult Education curriculum and raise standardized test scores.  Yet, teachers are struggling to find methods to cover an entire textbook with less classroom contact hours. 
"Chancellor Juan Salgado assigned focus groups through the CCC colleges and community groups to develop round tables to provide feedback on how to improve classes.  I was invited to a group meeting by community relations person and later uninvited," said Flores. "Chancellor, you are cheapening our program and dismissing academic rigor and inclusion. Since your arrival the program's pillars have been unstable because you have fired all the core central office staff and you have appointed vice chancellors with zero education experience, zero teaching experience, and zero adult education background." AFSCME 3506 members were astonished when these sweeping changes were announced, just days after the union voted to accept the proposed Adult Education contract from CCC.  This could amount to many teachers getting a 25 percent reduction in their paid hours.  In addition, teachers who lose hours are in jeopardy of being ineligible for the CCC health insurance plan and other benefits. AFSCME 3506 is recommending that Chicago City Colleges takes the time to go through a comprehensive process to best develop an Adult Education Program that solicits the input of all the stakeholders: from students to educators to management and funders.