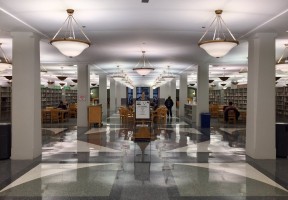 Chicago Public Library offers a variety of programs and events each month to engage patrons of all ages and explore relevant cultural topics. All events are free and seating is first come, first served. For a complete list of CPL events at all locations, visit chipublib.org/events.
What's the Whole Story? The Status of Chicago's Women and Girls
Wednesday, August 14 at 6:00 p.m. | Cindy Pritzker Auditorium
The Chicago Foundation for Women, Chicago Public Library, Heartland Alliance, and the Office of the City Clerk of Chicago address the narrative of women and girls navigating violence, economic insecurity, and lack of access to health care.
Reflections of Youth: Spoken Word Performance and Conversation
Monday, August 12 at 6:00 p.m. | Cindy Pritzker Auditorium
National Youth Poet Laureates and YCA alumna Patricia Frazier (2018) and Kara Jackson (2019) and members of the 2019 Louder than a Bomb Squad debut work inspired by the difficult history of the 1919 race riots.
We Want to Make a Thing Art Exhibit by Beth Hetland and Kyle O'Connell
Through August 10 | 8th Floor
Discover behind-the-scenes details on the collaborative and creative process the exhibitors follow to create their accessible comics, graphic novels, and art. This month there will be an Artist Talk and Sketchbook Workshop featuring both Beth and Kyle aligning with their exhibit.
For more information and/or the complete list of events, please call (312) 747-4050 or visit chipublib.org.