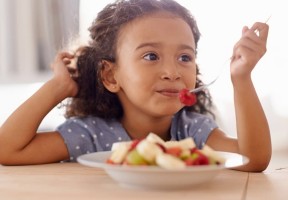 By teaching your children healthy eating habits and modeling these behaviors in yourself, you can help your children maintain a healthy weight and normal growth. Also, the eating habits your children pick up when they are young will help them maintain a healthy lifestyle when they are adults.
Guide your family's choices rather than dictate foods. Make a wide variety of healthful foods available in the house. This practice will help your children learn how to make healthy food choices. Leave the unhealthy choices like chips, soda, and juice at the grocery store. Serve water with meals.
Encourage your children to eat slowly. A child can detect hunger and fullness better when they eat slowly. Before offering a second helping or serving, ask your child to wait at least 15 minutes to see if they are truly still hungry. This will give the brain time to register fullness. Also, that second helping should be much smaller than the first. And if possible, load that second helping with more veggies.
Plan for snacks. Continuous snacking may lead to overeating, but snacks that are planned at specific times during the day can be part of a nutritious diet, without spoiling a child's appetite at meal times. You should make snacks as nutritious as possible, without depriving your children of occasional chips or cookies, especially at parties or other social events. Have healthy snacks within reach and at eye level.
Try not to use food to punish or reward your children. Withholding food as a punishment may lead children to worry that they will not get enough food. For example, sending children to bed without any dinner may cause them to worry that they will go hungry. As a result, children may try to eat whenever they get a chance. Similarly, when foods, such as sweets, are used as a reward, children may assume that these foods are better or more valuable than other foods. For example, telling children that they will get dessert if they eat all of their vegetables sends the wrong message about vegetables.