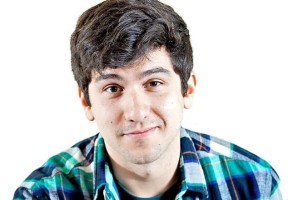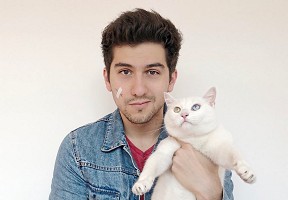 By Nikoleta Morales
Jerry Velazquez is a Mexican actor and a singer who recently voiced over the character of Aladdin in the Spanish language version of the film. His career started in Disney Channel Latin America with the sitcom "Cuando toca la campana" and the worldwide phenomenon "Violetta". His theatre credits in Mexico include Next to Normal, Grease, The Addams Family and Rent. He's a member of the acappella band "Los Saviñon" and their Disney medley has surpassed 12 million views on YouTube. He's currently on Comedy Central's series "Backdoor" and is set to make his film debut December landing a leading role in "El Vengador Serrano".
What was your experience like being the Spanish voice of Aladdin?
JV: It was a dream come true. I loved that movie since I was a kid. I would always watch the tape, watch it over and over again. I grew up with Disney movies. My parents took me to Disney World as much as I could. When I was 17 I did a TV show for Disney Channel in Mexico that was the beginning of a dream come true. Aladdin is my favorite movie and my favorite character. 
Did you have a love story like Aladdin that you used in voicing the character?
JV: I don't think it is as much about the love story as it is a self-esteem and self-love story. Aladdin is a diamond in the rough but everyone else calls him a freak. He has always had to believe in himself and suddenly he is a very special person and the only one allowed to have it all because of his personality and heart. I can relate to that because I was bullied when I was younger. I didn't have a very high self-esteem and people would tear me down and I would feel bad about myself and I knew there was something else in me. I knew I was a diamond in the rough and I was happy with myself and I relate to that. Love is a beautiful thing. It's always beautiful when you find someone who loves you despite of who you are. Jasmine finds out Aladdin is not a prince but a thief and she has known who he really is inside and she loves him. When someone decides to be with you because they know you, you have found true love. 
How did you get approached for the role?
JV: I have been auditioning for this for three years because I have been working with people from Disney and with other voiceovers. I did vocals for "Frozen" and the last "Muppets" movie. I had always been close but never as close as I wanted to be for a Disney role. I have always done a lot of musical theater. Disney has been hiring a lot of musical theater people for their voiceovers. Being close to the Disney team and being known as a musical theater actor in Mexico opened up the doors for me to be one of the four people that auditioned for the part. It makes me feel honored and proud of myself because people consider me for this kind of beautiful characters.
Who is your dream character?
JV: My dream is doing an animation movie and voicing a new prince. That would be great. This is the live action Aladdin film but we are sharing the things with the original actors. People have a hard time connecting the voice to the character because they have seen the other actors there. I want someone to feel that I am the original voice and make an animation movie.
Did you always want to be an actor and what has your experience been like so far?
JV: I knew I wanted to sing. I didn't know I wanted to be an actor. When I was in high school I started singing school musicals. That's when I knew I loved it and fell in love with the acting and the whole music theater thing.  A few years after that I auditioned for the Disney Chanel show and I made it. I worked for Disney for another five years. I got to travel to South America. In Latin America Disney is based in Argentina. I traveled and did some shows in Brazil. It is enriching to know people from other places and to live in the area with such a beautiful company in Disney. I have done a lot of musical theater. I feel blessed that work has been great.
What are you working on now?
JV: The first movie I have done as a lead is in Mexico and will show in December. We are premiering on Comedy Central show in September and we are shooting right now Second Season of "Back Door."
What is your message to your fans and the fans of Aladdin?
JV: Watch the movie. Go feel that nostalgic sensation at looking at one of your favorite characters brought to live. I hope they enjoyed it and understand this movie is a home to your childhood and it is great for the new generation. Girls look at Jasmine in this new movie and it gives the message of female empowerment, which is very important for our society. She should be a role model for the world. 
Follow me on Social Media bout me at @jerryvelazquez. 
"Aladdin" arrives on Digital 4K Ultra HD™ and movies anywhere Aug. 27 and on 4K Ultra HD and Blu-ray™ Sept. 10.