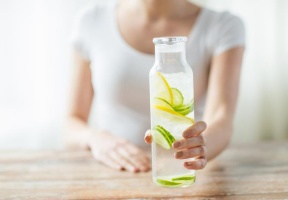 As summer winds down, some people who ditched their New Year's weight-loss resolutions may re-dedicate themselves to looking good. Even more important, though, is what we put in our bodies. What we eat and drink not only impacts how we look, but how we feel. And to properly set the tone for the inner body and good overall health, it's vital to get the bad stuff – toxins – out, and keep them out, says Dr. Suhyun An, an expert on regenerative medicine and co-author of Demystifying Stem Cells: A Real-Life Approach To Regenerative Medicine. Dr. An provides tips for cleaning out the toxins in your body:
Reduce the toxins you're taking in. The first step to cleaning out toxins in your body is to cut back – or completely eliminate – things you put into your body that contain them. "When something is hard for the body to digest, it can slow down your metabolism and cause toxins to accumulate in your body," Dr. An says. "Avoid these groups: red meat, gluten, refined sugar, processed food, alcohol, and caffeine."
Add plenty of dietary fiber and antioxidants to your diet. Eating foods with plenty of fiber, such as organic fruits, vegetables and whole grains, will help your body move the toxins out. "Antioxidants help to fight free radicals and help to further remove harmful materials," Dr. An says.
Sweat it out. Sweating is a very effective way for the body to get rid of toxins. "Achieving this through exercise also keeps your organs and systems working properly, which plays a key role in releasing toxins," Dr. An says. "Aside from exercising, hopping into a sauna or hot bath can help, too."
Dr. Suhyun An is the clinic director at Campbell Medical Group in Houston and an expert on regenerative medicine.