By: Ashmar Mandou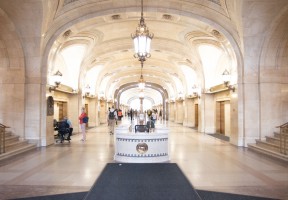 Mayor Lori E. Lightfoot on Wednesday was joined by advocacy organizations, elected officials and her cabinet for an event and panel discussion to reflect on the first 100 days in office and discuss the next steps it will take to address key priorities facing the city. The new administration has championed landmark legislation to benefit working families and has worked to bring forward new investments in public safety, education and good governance reforms designed to make the city more efficient for the residents it serves.
During the event held at Kenwood Academy, Mayor Lightfoot thanked members of the transition team and the community for their contributions to ensuring a successful transition and outlined some of the key challenges the administration will take on next to continue driving change to benefit residents and businesses across the City of Chicago. "Over these past 100 days, we have made important strides in building stronger communities, safer neighborhoods, and creating meaningful change across Chicago, but our work has only just begun," said Mayor Lori E. Lightfoot. "I want to thank all our residents, community leaders, elected officials, and other stakeholders for their collaboration, partnership, and support in enacting historic legislation and unprecedented reforms for our city. In the months ahead, we must continue to stand together as we build on our success and take on even greater challenges to create a Chicago that is truly a beacon of hope and opportunity for every resident, and for generations to come." Key highlights from the first hundred days include:
• Working with partners to secure authorization on a Chicago casino, and taking additional steps toward creating a long-term sustainable financial plan for the City.
• Creating the City's first-ever Office of Racial Justice and Equity to oversee the development of policies and practices to advance racial and social equity for the City.
• Launching a new and improved Qualified Allocation Plan (QAP) which for the first time makes explicit collaboration with the Continuum of Care, resulting in a coordinated application process for addressing homelessness.
Moving forward, some of the next key priorities for the Lightfoot administration include addressing the FY2020 budget and the City's long term fiscal health, expanding access to mental health and trauma services in every neighborhood, creating broader access to affordable housing, and passing a $15 minimum wage to further benefits for working families.
The Mayor has announced she will lead four budget town hall meetings throughout the city to ensure residents have an opportunity to learn more about the budget process, the upcoming 2020 budget, and ways the City will address its financial challenges. To give the Budget Town Hall meetings a framework of the topics residents want to discuss, the City is launching a new public survey at www.chicago.gov/2020budget. Now through September 30th, the survey will act as a tool for the administration to ascertain which priorities residents want to focus on over the course of the discussion.